Raja Mehanna, MD
Neurologist
Associate Professor
Department of Neurology
McGovern Medical School, UTHealth
Dr. Raja Mehanna is an associate professor at McGovern Medical School at UTHealth.
Board certified in neurology, Dr. Mehanna sees patients 18 years and older. For tics, dystonia and Huntington's Disease, Dr. Mehanna treats all ages.
Dr. Mehanna is dedicated to providing his patients expert diagnosis in all aspects of movement disorders and offering individualized treatment options. He emphasizes listening to his patients and patient education. He speaks French, Arabic and conversational Spanish.
Education/Training
Medical School
St. Joseph University School of Medicine, 2005
Residency
Baylor College of Medicine, 2011
Fellowship
Baylor College of Medicine, 2012
Fellowship
Cleveland Clinic, 2013
Clinical Interests
Movement Disorders, Parkinson's Disease, Tremor, Dystonia, Ataxia, Spasticity
Board Certification
American Board of Psychiatry and Neurology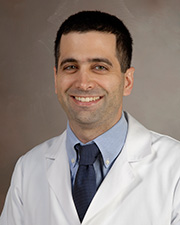 Dr. Mehanna Sees Patients at:
UTHealth Neurosciences Neurology
6410 Fannin St., Suite 1014
Houston, TX 77030
Phone: (832) 325-7080