Samden Lhatoo, MD
Neurologist
Director, Texas Comprehensive Epilepsy Program
Co-Director, Texas Institute for Restorative Neurotechnologies
Professor, McGovern Distinguished Chair in Neurology, and Executive Vice Chair, Department of Neurology
McGovern Medical School, UTHealth
Samden Lhatoo, MD, sees patients with newly diagnosed or complex cases of refractory epilepsy requiring surgery or medical control of seizures. His mission is to improve quality of life for people living with epilepsy and bring their seizures under control. He treats patients ages 16 and older.
He received his basic medical training from the University of Delhi's Maulana Azad Medical College in 1991. He completed his residency in internal medicine at the Postgraduate Institute of Medical Education and Research, Chandigarh in 1994 and obtained his Membership of the Royal College of Physicians, London in 1995.
He trained in neurology at the Radcliffe Infirmary at Oxford, Frenchay Hospital in Bristol and the National Hospital for Neurology and Neurosurgery (NHNN) at Queen Square in London, UK. He received his board certification (UK) in Neurology in 2002, and trained in epilepsy with a two year fellowship at NHNN and a further epilepsy research fellowship in EEG at the Cleveland Clinic Foundation.
Dr. Lhatoo also has an MBA from the Cleveland Clinic Weatherhead Executive MBA program. He joined the faculty at Case Western Reserve University in 2010.
Dr. Lhatoo was recruited in December 2018 to McGovern Medical School as professor and executive vice chair with the Department of Neurology. Dr. Lhatoo also serves as director of the Texas Comprehensive Epilepsy Program (TCEP) and co-director of the Texas Institute of Restorative Neurotechnologies.
Education/Training
Medical School
Maulana Azad Medical College, 1991
Residency
North Bristol NHS Trust, 2002
Fellowship
National Hospital for Neurology and Neurosurgery, 1999
Clinical Interests
Epilepsy, EEG, epilepsy surgery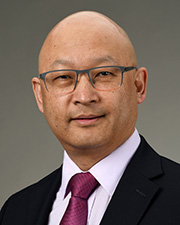 Dr. Lhatoo Sees Patients at:
UTHealth Neurosciences Neurology
6410 Fannin St., Suite 1014
Houston, TX 77030
Phone: (832) 325-7080