Sandipan Pati, MD
Neurologist
Associate Professor
Department of Neurology
McGovern Medical School at UTHealth
Dr. Sandipan Pati is dual board certified in neurology and epileptology by the American Board of Psychiatry and Neurology. His clinical and research interests are focused on treatment-resistant epilepsies, with the goal of developing efficient neuromodulation paradigms to treat seizures and cognitive co-morbidities, such as depression and memory loss.
Dr. Pati received his medical degree at the Jawaharlal Institute of Postgraduate Medical Education and Research in Pondicherry, India, and is a member of the Royal College of Physicians (MRCP) in the United Kingdom. He completed residency training in the UK in internal medicine at the University of Birmingham NHS Hospitals; in neurology at John Radcliffe Hospital, Oxford University Hospitals NHS in Oxford; and in epilepsy at the National Epilepsy Center, National Hospital for Neurology and Neurosurgery of University College London Hospitals. After moving to the United States, he completed additional residency training in neurology at Barrow Neurological Institute at St. Joseph's Hospital and Medical Center in Phoenix. He went on to complete fellowship training in epilepsy and clinical neurophysiology at Massachusetts General Hospital/Harvard Medical School in Boston in 2014. Dr. Pati joined UTHealth Neurosciences from the University of Alabama at Birmingham, where he was an associate professor of neurology and saw patients in the Epilepsy Neuromodulation Clinic.
An associate professor of neurology at McGovern Medical School, Dr. Pati is a member of the team at the Texas Comprehensive Epilepsy Program and the Texas Institute for Restorative Neurotechnologies at UTHealth Neurosciences. His career goal is to improve the lives of people with epilepsy. He sees patients at UTHealth Neurosciences Neurology in the Texas Medical Center.
Collaboration with Referring Physicians
Physicians affiliated with UTHealth Neurosciences engage referring physicians in the care of their patients, keeping them informed about patient progress throughout the evaluation and treatment process. After a patient's treatment, referring physicians receive a summary and a plan for follow-up. Our physicians encourage continued communication about each patient.
To Refer a Patient:
P: (832) 325-7080
F: (713) 512-2239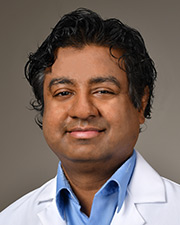 Dr. Pati Sees Patients at:
UTHealth Neurosciences Neurology
6410 Fannin St., Suite 1014
Houston, TX 77030
Phone: (832) 325-7080