Spiros L. Blackburn, MD
Neurosurgeon
Associate Professor
Program Director of the Residency Program
Vivian L. Smith Department of Neurosurgery
McGovern Medical School, UTHealth
Spiros Blackburn, MD, is a board-certified neurosurgeon who specializes in cerebrovascular and skull base surgery. He has special expertise in both endoscopic and endovascular neurosurgery.
A summa cum laude graduate of Old Dominion University in Norfolk, Virginia, Dr. Blackburn received his medical degree at The University of Texas Southwestern Medical School in Dallas. After concluding his residency at Washington University in St. Louis, he completed a cerebrovascular fellowship at Emory University in Atlanta and a neuro-endovascular fellowship at Mallinckrodt Institute of Radiology at Washington University. Prior to joining UTHealth Neurosciences, he held a faculty appointment as assistant professor of neurosurgery at the University of Florida in Gainesville.
The recipient of numerous academic awards, Dr. Blackburn has lectured nationally on the management of cerebral aneurysms, surgical anatomy, arteriovenous malformations and stroke. His research has been published in peer-reviewed journals including PNAS, Neurosurgery, World Neurosurgery, Journal of NeuroInterventional Surgery, British Journal of Neurosurgery, Journal of Neurosurgery, Stroke and Journal of Neuro-Oncology, among others. His clinical research interests include biomarkers for cerebral vasospasm and translational research for patients with subarachnoid hemorrhage, as well as a number of clinical trials for the treatment of brain aneurysms. Dr. Blackburn is committed to providing superior care.
Education/Training
Medical School
University of Texas Southwestern Medical Center, 2004
Fellowship
Mallinckrodt Institute of Radiology, 2012
Fellowship
Emory University School of Medicine, 2011
Residency
Barnes Jewish Hospital WU School of Medicine, 2010
Residency
Barnes Jewish Hospital WU School of Medicine, 2005
Clinical Interests
Cerebral aneurysms, arteriovenous malformations, meningiomas and other brain tumors, pituitary tumors, Moya Moya disease, carotid artery stenosis and endarterectomy, cavernous malformations, endovascular neurosurgery, interventional neuroradiology, coil embolization of aneurysms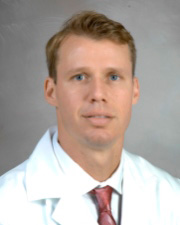 Dr. Blackburn Sees Patients at:
UTHealth Neurosciences–Texas Medical Center
(713) 486-8000
6400 Fannin Street, Suite 2800
Houston, TX 77030
Driving Directions