Stella H. Kim, PsyD
Neuropsychologist
Assistant Professor
Department of Neurology
McGovern Medical School, UTHealth
Stella Kim, PsyD, is a clinical neuropsychologist and an assistant professor in the Department of Neurology at McGovern Medical School at The University of Texas Health Science Center at Houston (UTHealth).
She specializes in neuropsychological evaluation of adult and geriatric patients with neurological disorders, including dementia, movement disorders, autoimmune disorders, and cerebrovascular disease. She also conducts pre/post-surgical evaluations and assessment of mood and other psychiatric disorders.
Dr. Kim's research interests include cognitive and psychological functioning pre/post-treatment for Parkinson's Disease, cross-cultural issues in neuropsychology, and psychometric properties of neuropsychological measures.
Education/Training
Graduate School
Indiana University of Pennsylvania , 2015
Internship
West Haven VA Medical Center, 2015
Fellowship
Baylor College of Medicine, 2017
Clinical Interests
Dementia, movement disorders, autoimmune disorders, and cerebrovascular disease; specializes in adults and geriatrics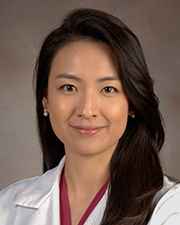 Dr. Kim Sees Patients at:
UTHealth Neurosciences Neurology
6410 Fannin St., Suite 1014
Houston, TX 77030
Phone: (832) 325-7080