Sunil A. Sheth, MD
Vascular Neurologist
Associate Professor
Department of Neurology
McGovern Medical School, UTHealth
Sunil A. Sheth, MD, is a board certified vascular neurologist specializing in in endovascular treatments for cerebral and spinal vascular diseases. He has expertise in the treatment of ischemic and hemorrhagic stroke, brain aneurysms, arteriovenous malformations, fistulas, as well as facial and spinal vascular malformations.
Dr. Sheth is originally from Houston and attended Harvard University, graduating magna cum laude with an A.B. in chemistry and physics. He received his MD from Harvard Medical School and Massachusetts Institute of Technology where he was enrolled in the Health Sciences and Technology Program. He graduated magna cum laude and was also awarded a Howard Hughes Medical Institute Research Fellowship.
He completed his residency in neurology at the University of California, San Francisco where he served as the chief resident, and fellowships in Vascular Neurology and Interventional Neuroradiology at the University of California, Los Angeles.
Dr. Sheth is currently an associate professor of neurology at McGovern Medical School at The University of Texas Health Science Center at Houston (UTHealth).
Education/Training
Medical School
Harvard University, 2009
Internship
Stanford University Clinic-Palo Alto, 2010
Residency
University of California, San Francisco, 2010
Fellowship
University of California-Los Angeles, 2014
Fellowship
University of California-Los Angeles, 2016
Clinical Interests
Ischemic stroke, intracranial hemorrhage, subarachnoid hemorrhage, endovascular treatments for stroke, endovascular treatments for cerebral aneurysms, cerebral vascular malformations including arteriovenous malformations and arteriovenous fistulas, spinal vascular malformations, facial vascular malformations, tumor embolization
Board Certification
American Board of Psychiatry and Neurology
General
Vascular Neurology
Vascular and Interventional Radiology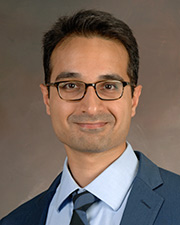 Dr. Sheth Sees Patients at:
UTHealth Neurosciences Memorial City
929 Gessner, Suite 2410
Houston, TX 77030
Phone: (713) 486-7720
Fax: (713) 486-7744
UTHealth Neurosciences Neurology
6410 Fannin St., Suite 1014
Houston, TX 77030
Phone: (832) 325-7080