Swati Pradeep, DO
Dr. Swati Pradeep is a neurologist and specializes in the treatment of movement disorders, Parkinson's Disease, essential tremor, dystonia, ataxia and spasticity.
Dr. Pradeep is committed to helping movement disorder patients by explaining what is happening to them and providing available resources and treatments that can help. She believes comprehensive education can help empower patients and their families to navigate the challenges that come along with a movement disorder diagnosis.
Her practice provides clinical evaluation and comprehensive care of patients with a wide range of movement disorders. In addition, her team can perform procedures such as botulinum toxin injection program for dystonia, hemifacial spasm, spasticity and deep brain stimulation programming for Parkinson's disease, tremor, and dystonia.
Dr. Pradeep graduated from Philadelphia College of Osteopathic Medicine in 2015. In 2019, she completed his residency training in neurology at University of Kentucky and was chief resident. Afterwards, she completed additional fellowship training on movement disorders at The University of Texas Health Science Center at Houston (UTHealth) in 2020.
Education
Medical Degree
Philadelphia College of Osteopathic Medicine – Suwanee, GA
Residency
Neurology, University of Kentucky – Lexington, KY
Fellowship
Movement Disorders, McGovern Medical School – Houston, TX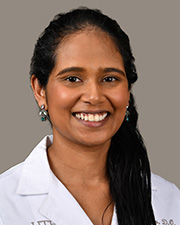 Dr. Pradeep Sees Patients at:
UTHealth Neurosciences Neurology
6410 Fannin St., Suite 1014
Houston, TX 77030
Phone: (832) 325-7080