Thy Nguyen, MD
Neurologist
Associate Professor
Director, Electromyography Laboratory
Director, Clinical Neurophysiology Fellowship
Department of Neurology
McGovern Medical School, UTHealth
Dr. Thy Nguyen is an associate professor at McGovern Medical School at The University of Texas Health Science Center at Houston (UTHealth).
Board certified in Neurology and Clinical Neurophysiology, Dr. Nguyen sees all adult patients with neuromuscular disorders over the age of 18.
Dr. Nguyen's patient care philosophy is consistent with the mission of McGovern Medical School and UTHealth. She believes in fostering a relationship between the provider and patient to deliver the best care on an individual basis. In her spare time, Dr. Nguyen enjoys spending time with her family, friends and reading.
Education/Training
Medical School
Baylor College of Medicine, 2006
Residency
Baylor College of Medicine, 2010
Fellowship
University of Texas Health Science Center at Houston, 2011
Clinical Interests
Immune-mediated Neuropathy, Neuromuscular Junction Disorders, Polyneuropathy, Neuromuscular Disorders, Peripheral Nerve Injuries, Plexus Disorders, Electrodiagnostic Studies
Board Certification
American Board of Psychiatry and Neurology
Clinical Neurophysiology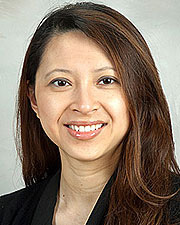 Dr. Nguyen Sees Patients at:
UTHealth Neurosciences Neurology
6410 Fannin St., Suite 1014
Houston, TX 77030
Phone: (832) 325-7080