Jia Lin, MD, MPH
Neurologist
Assistant Professor, Department of Neurology
McGovern Medical School at UTHealth Houston
Dr. Jia Lin is a board-certified neurologist who specializes in multiple sclerosis and other autoimmune-mediated neurological conditions. She serves as an assistant professor in the Department of Neurology at McGovern Medical School at UTHealth Houston.
Dr. Lin graduated summa cum laude with a bachelor's degree in biochemistry and molecular biology from the University of Massachusetts. She earned a master's degree in public health and attended medical school at the University of Colorado. She completed her internship at the Detroit Medical Center and residency in neurology at Wayne State University.
Dr. Lin was awarded several competitive scholarships from the American Academy of Neurology and Consortium of Multiple Sclerosis Centers. She has conducted clinical research in MS and provided expert reviews in neurology journals.
Before joining UTHealth Houston as an assistant professor, Dr. Lin worked as a clinical instructor at the University of Southern California, where she completed a clinical care physician fellowship in MS and neuroimmunology. She is an avid educator of neurological disorders and is interested in training future generations of MS providers. In addition, her clinical interests include neurosarcoidosis, autoimmune encephalitis, paraneoplastic syndromes, acute disseminated encephalomyelitis (ADEM), neuromyelitis optica spectrum disorder (NMOSD), and myelin oligodendrocyte glycoprotein antibody-associated diseases (MOGAD). Her research interests include MS in minority populations, COVID-19 infections and MS, and management of pregnancy in MS patients.
Collaboration with Referring Physicians
Physicians at UTHealth Houston Neurosciences engage referring physicians in the care of their patients, keeping them informed throughout the evaluation and treatment process. After treatment, referring physicians receive a summary and a plan for follow-up. We encourage continued communication about each patient.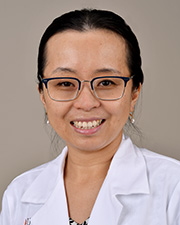 Dr. Lin Sees Patients at:
UTHealth Neurosciences Neurology
6410 Fannin St., Suite 1014
Houston, TX 77030
Phone: (832) 325-7080