UTHealth Neurosciences-Memorial City
Neurology and Neurosurgery Expertise
UTHealth Neurosciences extends its neuroscience expertise and capabilities outside the Texas Medical Center; UTHealth Neurosciences-Memorial City is one of 11 outpatient clinics located across the Greater Houston area.
Our providers are leaders in their fields, focusing their expertise on a few conditions only, so they can provide advanced care for even the most complex and rare conditions. Within our clinics, our multidisciplinary team of specialists collaborate to provide comprehensive patient care. Our group's goal is to offer our patients the best possible treatment options and an improved quality of life.
Neurology
UTHealth Neurosciences neurologists have extensive expertise in the diagnosis and treatment of a wide range of neurological issues, including movement disorders, epilepsy, sleep disorders, back pain, cancer of the brain and spine, and more.
Neurosurgery and Spine Surgery
As members of the McGovern Medical School at UTHealth, our extensively trained neurosurgeons focus on research and improving treatment options for many neurological conditions. With this focus on innovation and a commitment to convenient patient care, UTHealth Neurosciences has made world-class neurosurgical expertise available to the residents of West Houston.
Care Close to Home
UTHealth Neurosciences provides neuroscience coverage to the Houston community and outlying suburbs 24 hours a day. Patients now have access to world class neurological care, including complex spine and intracranial medicine, in their own communities.
Directions & Parking
Free parking is available in the Memorial Hermann Tower Garage (Garage #5). You can enter Garage 5 from Frostwood or Gessner. After parking, take the garage elevator to Floor B, then take the crosswalk to the Memorial Hermann Tower, where there is an escalator you can take down to the first floor lobby of the Tower. Take the lobby elevators to the 24th Floor, where the UTHealth Neurosciences-Memorial City clinic is located.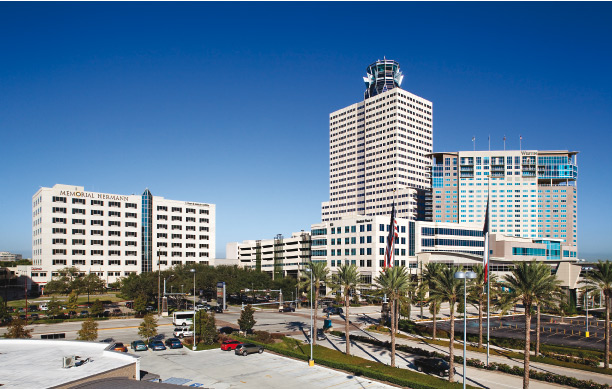 UTHealth Neurosciences-Memorial City
929 Gessner, Suite 2410
Houston, TX 77024
(713) 486-7720
(713) 486-7744 (fax)