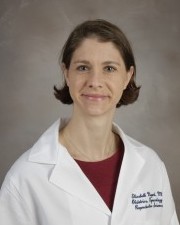 Biography
Elizabeth K. Nugent, MD, offers personalized treatment solutions for patients with cervical, endometrial and ovarian cancer, after-disease lifestyle modification and clinical trials for the treatment of gynecologic malignancies. She sees patients ages 16 and older. Her practice philosophy revolves around a team-based approach to care by including family members as part of a comprehensive treatment strategy. Her patients value her honesty and support.
Dr. Nugent is a graduate of Baylor College of Medicine in Houston, Texas. She completed her residency at Washington University School of Medicine in St. Louis, and a fellowship in Gynecologic Oncology at The University of Oklahoma Health Sciences Center.  Dr. Nugent is board certified in Obstetrics, Gynecology and Gynecologic Oncology.
In her leisure time, Dr. Nugent enjoys spending time with friends and family, especially her children.
Education
Medical School

Baylor College of Medicine

Residency

Washington University School of Medicine, St. Louis

Fellowship

Gynecologic Oncology @ University of Oklahoma Health Science Center
Areas of Interest
Clinical Interests
Endometrial cancer treatment, Ovarian cancer treatment, Cervical cancer treatment, Post-Treatment lifestyle modification
Publications