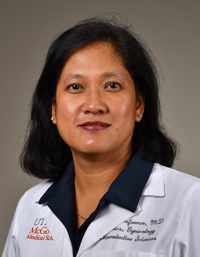 Biography
Jerrie S. Refuerzo, MD, is a Professor in the Maternal-Fetal Medicine Division with the Department of Obstetrics, Gynecology, and Reproductive Sciences at McGovern Medical School (UTHealth). She received her Bachelor of Science degree in Biochemistry from the University of California-Riverside.  She attended medical school and completed her Maternal-Fetal Medicine Fellowship at Wayne State University in Detroit, Michigan.  She completed her Masters in Clinical Research and Evidence-Based Medicine at McGovern Medical School (UTHealth).
Dr. Refuerzo joined The Fetal Center, affiliated with Children's Memorial Hermann Hospital and McGovern Medical School at UTHealth.
Dr. Refuerzo has been awarded numerous honors, including Houstonian Top Doctors in Houston, Texas.
Her research goal is to improve medication administration and safety in pregnancy.
She is a clinical scientist and has conducted translational studies involving nanotechnology to improve tocolytic therapies to treat preterm labor.  She has also undertaken investigator-initiated randomized controlled trials involving diabetic and analgesic medications in pregnancy.  In addition, she is the Vice-Chair for the Quality of Women's Health at McGovern Medical School-UTHealth.  She has received multiple recognitions for her research and clinical expertise, including the 2016 March of Dimes Award for Prematurity, 2016 Society of Maternal-Fetal Medicine Award Prematurity Section, and 2014/2016 Top Docs Houston
Education
Medical School

Wayne State University School of Medicine

Masters in Clinical Research and Evidence-Based Medicine

McGovern Medical School (UTHealth)

Residency

Wayne State University School of Medicine

Fellowship

Maternal and Fetal Medicine @ Wayne State University School of Medicine
Areas of Interest
Clinical Interests
Medications in pregnancy, Critical care obstetrics, Maternal medical conditions, First trimester screening
Publications