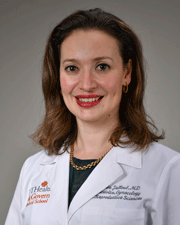 Biography
Randa Jalloul, MD, is board-certified in obstetrics and gynecology, with special interest in minimally invasive gynecologic surgery. She offers her patients a wide range of gynecologic services, including contraception, management of menstrual disorders, fibroids, advanced gynecologic surgery, medical and surgical treatment of endometriosis, pelvic pain, and management of pelvic organ prolapse/stress urinary incontinence. Dr. Jalloul aims to deliver exceptional care for all patients by providing personalized medicine.
Dr. Jalloul is certified in Fundamentals of Laparoscopic Surgery (FLS). When surgery is needed, she strives to provide a minimally invasive approach to allow for a speedy and smooth recovery. This includes laparoscopy, robotic surgery, and hysteroscopy. She also offers many office-based procedures including colposcopy, loop electrosurgical excision procedure (LEEP) cervical conization, and hysteroscopy. Since 2013, Dr. Jalloul has performed over 600 surgeries, including complex minimally invasive vaginal and laparoscopic procedures.
Dr. Jalloul is an assistant professor at McGovern Medical School at The University of Texas Health Science Center at Houston (UTHealth) and serves as the associate program director for the residency program. She is also in charge of the laparoscopic and vaginal hysterectomy simulation program for resident education. She is completing her masters in Clinical Research and is a lead mentor for the residents' research projects.
Native from Lebanon, Dr. Jalloul completed her graduate medical education at Saint Joseph University in 2005 and a four-year residency in obstetrics and gynecology at the American University of Beirut. She then moved to the United States where she went on to excel during her second four-year residency in obstetrics and gynecology at Henry Ford Hospital/Wayne State University, in Detroit, Michigan. There, she received several awards, including the prestigious AAGL (American Association of Gynecologic Laparoscopy) award for excellence in endoscopic surgery and the Hippocrates award, in recognition of the resident who best practices the Art of Medicine.
Dr. Jalloul is a fellow of the American Congress of Obstetricians and Gynecologists (ACOG), and a member of the American Association of Laparoscopic Gynecologists (AAGL).
Education
Medical School

Saint Joseph University

Residency

Wayne State University
Areas of Interest
Clinical Interests
General Obstetrics and Gynecology
Publications