Platelet Rich Plasma Treatments
Platelet rich plasma is a liquid extracted from the preparation of a patient's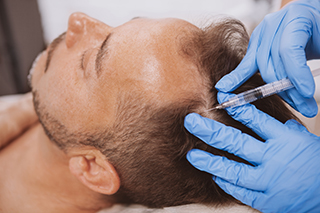 own blood into a rich solution of platelets in a milieu of growth factors. This has been used extensively in orthopedics to help heal injuries. In cosmesis, PRP treatment is an important tool we use for hair restoration and rejuvenation of the face. In hair restoration, PRP is used to stimulate follicle growth and thicken areas of the scalp that are thinning. It is also used to augment the effects of hair transplant. PRP is also used after micro-needling treatments to enhance the skin's ability to regenerate and rejuvenate for a more youthful appearance and texture to the face.
Schedule an Appointment
Call Us
To schedule an appointment over the phone, give our office a call at (713)-486-5019.
Online Appointment Requests
Patients may submit their appointment requests through our online Appointment Request Form.
Both current and new patients can request appointments through MyUTHealth, our patient portal.