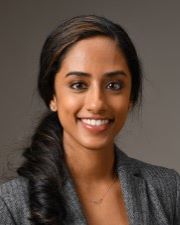 Education
Graduate School

Graduate School Applied Developmental Science & Special Education, University of North Carolina, Chapel Hill, North Carolina, 2017
Areas of Interest
Research Interests
Dr. Varghese's research interests include developing and scaling professional development models for early childhood practitioners (e.g., teachers, coaches, trainers), implementation fidelity, and teacher-child interactions within early childhood contexts.Dr. Varghese's research interests around professional development for early childhood practitioners are reflected in her work on several federally- and state-funded projects. Dr. Varghese currently serves as Co-PI of the Core Coaching Competencies Professional Development (C3PD; R305A210075), which is a development grant focused on training and learning opportunities for early childhood coaches. She also serves as Co-PI of the Coaching for Continuous Quality Improvement study that is focused on enhancing coaching skills for Texas Rising Star mentors. Dr. Varghese is a Co-Investigator on a grant contrasting three different professional development models for pre-k teachers (R305A180406; PI: Dr. Crawford). She is also Co-PI of the Early Childhood Education Partnerships (ECEP) project that expands on competency-based frameworks for early childhood educators. The aforementioned projects leverage a comprehensive micro-credential system (co-developed with Dr. April Crawford) that utilizes digital badging to recognize specific and observable skills across practitioners (e.g., coaches, trainers, tutors).
Publications
Varghese, C., Garwood, J. D., Bratsch-Hines, M. E., Vernon-Feagans, L. (2016). Teacher efficacy in classroom management, instruction, and student engagement: Investigating the magnitude of change across the school year and implications for students' literacy growth. Teaching and Teacher Education, 55, 228–239.
Varghese, C., Vernon-Feagans, L., & Bratsch-Hines, M. (2019). Associations between teacher–child relationships, children's literacy achievement, and social competencies for struggling and nonstruggling readers in early elementary school. Early Childhood Research Quarterly, 47, 124–133.
Crawford, A., Varghese, C., & Monsegue-Bailey, P. (2020) The implementation and scaling of an early education program. Journal of Applied Research on Children
Varghese, C., Bratsch-Hines, M. E., Aiken, H., & Vernon-Feagans, L. (2021). Teacher implementation fidelity of the Targeted Reading Intervention and children's early vocabulary and reading outcomes. Journal of Learning Disabilities
Crawford, A., Varghese, C., Oh, Y., Guttentag, C., Zucker, T., Landry, S., Cummins, R. Johnson, U., & Montroy, J. (2021). The effects of the CLI Engage Toddler Program on child care teachers and toddlers. Early Education & Development
Crawford, A., Vaughn, K., Guttentag, C., Varghese, C., Oh, Y., & Zucker, T. (2021). "Doing what I can, but I got no magic wand." A snapshot of early childhood educator experiences and efforts to ensure quality during the COVID-19 pandemic. Early Childhood Education Journal
Crawford, A., Varghese, C., Hsu, H., Zucker, T., Landry, S., Assel, M., Monsegue-Bailey, P., & Bhavsar, V. (in-press). A comparative analysis of instructional coaching approaches: Remote versus face-to-face coaching in preschool classrooms. Journal of Education Psychology
Professional Membership
Society of Research for Child Development
American Education Research Association