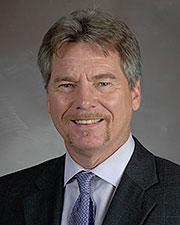 Joseph L. Alcorn, Jr., PhD
Education
Graduate School

Cell and Molecular Biology, University of Texas at Dallas, Richardson, Texas, 1988

Post Graduate School

University of Texas Southwestern Medical Center at Dallas, Department of Biochemistry, Dallas, Texas, 1988-1990
Areas of Interest
Clinical Interests
Pulmonary surfactant proteins (SP's) play key roles in the function and defense of the lung; SP-B and SP-C are crucial in reducing alveolar surface tension while SP-A and SP-D are key in pulmonary host defense and modulation of inflammation. Our research interests revolve around understanding the role of surfactant proteins in two severe pathologies affecting prematurely-born neonates; respiratory distress syndrome (RDS) and necrotizing enterocolitis (NEC).
While the lack of SP-B due to premature birth can lead to lung dysfunction and RDS, antenatal administration of glucocorticoids increases SP-B expression, in part, by increasing SP-B mRNA stability. We have identified sequences in the human SP-B mRNA 3'-untranslated region necessary for increased mRNA stability and are now identifying proteins that bind to these sequences. Our goal is to define this regulatory mechanism in order to devise therapies to accelerate SP-B expression in premature infants without the use of glucocorticoids.
NEC is a devastating disease often associated with pre-maturity that results in partial or total destruction of the immature intestine via inappropriate bacterial colonization and rampant inflammation. In the lung, SP-A functions to reduce bacterial colonization and inflammation, and SP-A is expressed in the gastrointestinal tract. We found that SP-A reduces inflammatory cytokines in the intestine and colon of neonatal mice. In addition, we find that SP-A can reduce pathology in rodent models of NEC. SP-A appears to reduce levels of a key player in NEC, toll-like receptor-4 (TLR4) through increased proteasomal degradation. Our goal is to define the protective mechanism of SP-A in immature intestine and establish a link between the incidence of NEC and intestinal SP-A levels. These studies provide may a new paradigm in which the under-appreciated extra-pulmonary functions of SP-A may help protect the immature intestine. Defining the mechanism of this protection will allow us to design therapies that exploit the immunomodulatory properties of SP-A to prevent and treat NEC in prematurely-born infants.
Research Interests
Transcriptional and post-transcriptional regulation of pulmonary surfactant proteins in the lung and gastrointestinal tract.
The role of SP-A in modulating TLR4 in intestinal epithelium.
Interactions of surfactant proteins with environmental insults (RSV, particulate matter)
Genetic influences on pulmonary type II epithelial cell biology and surfactant function
Publications
Meyer CM, Khan AM, Alcorn JL. Impact of Surfactant Protein-A on Immunomodulatory Properties of Murine and Human Breast Milk [published online ahead of print, 2022 Apr 20]. J Pediatr Gastroenterol Nutr. 2022;10.1097/MPG.0000000000003458. doi:10.1097/MPG.0000000000003458
Adibi S, Seferovic D, Tribble GD, Alcorn JL, Fakhouri WD. Surfactant Protein A and Microbiome Composition in Patients With Atraumatic Intraoral Lesions. Front Oral Health. 2021;2:663483. Published 2021 Apr 22. doi:10.3389/froh.2021.663483
Caroline E. Crocker, Joseph Alcorn, Romana Sharmeen; Investigating the Role of Surfactant Protein a in Acute and Chronic Neuroinflammation Using a Mouse Model. Pediatrics February 2022; 149 (1 Meeting Abstracts February 2022): 689.
Chetta KE, Alcorn JL, Baatz JE, Wagner CL. Cytotoxic Lactalbumin-Oleic Acid Complexes in the Human Milk Diet of Preterm Infants. Nutrients. 2021;13(12):4336. Published 2021 Nov 30. doi:10.3390/nu13124336
Liu L, Liu X, Bi W, Alcorn JL. A primate-specific RNA-binding protein (RBMXL3) is involved in glucocorticoid regulation of human pulmonary surfactant protein B (SP-B) mRNA stability. Am J Physiol Lung Cell Mol Physiol. 2021;320(5):L942-L957. doi:10.1152/ajplung.00022.2020
Liu L, Aron CZ, Grable CM, et al. Surfactant protein A reduces TLR4 and inflammatory cytokine mRNA levels in neonatal mouse ileum. Sci Rep. 2021;11(1):2593. Published 2021 Jan 28. doi:10.1038/s41598-021-82219-y
Liu X, Liu L, Bi W, Alcorn JL. An internal amino-terminal FLAG-tag octapeptide alters oligomerization of expressed surfactant protein-A. Protein Expr Purif. 2020;176:105727. doi:10.1016/j.pep.2020.105727
Adibi SS, Alcorn JL, Ono K, Lichtenberger LM. Gender and Smoking Correlations of Surfactant Lipids and Proteins in the Saliva of Dental Patients. J Dent Maxillofac Surg. 2018;1(1):67-70. doi:10.18314/jdms.v1i1.1385
Quan Y, Wang Z, Gong L, et al. Exosome miR-371b-5p promotes proliferation of lung alveolar progenitor type II cells by using PTEN to orchestrate the PI3K/Akt signaling. Stem Cell Res Ther. 2017;8(1):138. Published 2017 Jun 8. doi:10.1186/s13287-017-0586-2
Posey KL, Coustry F, Veerisetty AC, et al. Antisense Reduction of Mutant COMP Reduces Growth Plate Chondrocyte Pathology. Mol Ther. 2017;25(3):705-714. doi:10.1016/j.ymthe.2016.12.024
Razvi SS, Richards JB, Malik F, et al. Resistin deficiency in mice has no effect on pulmonary responses induced by acute ozone exposure. Am J Physiol Lung Cell Mol Physiol. 2015;309(10):L1174-L1185. doi:10.1152/ajplung.00270.2015
Posey KL, Coustry F, Veerisetty AC, Hossain M, Alcorn JL, Hecht JT. Antioxidant and anti-inflammatory agents mitigate pathology in a mouse model of pseudoachondroplasia. Hum Mol Genet. 2015;24(14):3918-3928. doi:10.1093/hmg/ddv122
Quintanilla HD, Liu Y, Fatheree NY, et al. Oral administration of surfactant protein-a reduces pathology in an experimental model of necrotizing enterocolitis. J Pediatr Gastroenterol Nutr. 2015;60(5):613-620. doi:10.1097/MPG.0000000000000678
Yang W, Hu B, Wu W, et al. Alveolar type II epithelial cell dysfunction in rat experimental hepatopulmonary syndrome (HPS). PLoS One. 2014;9(11):e113451. Published 2014 Nov 24. doi:10.1371/journal.pone.0113451
Fonseca L, Alcorn JL, Ramin SM, Vidaeff AC. Comparison of the effects of betamethasone and dexamethasone on surfactant protein A mRNA expression in human lung cells. J Matern Fetal Neonatal Med. 2015;28(11):1239-1243. doi:10.3109/14767058.2014.951623
Posey KL, Alcorn JL, Hecht JT. Pseudoachondroplasia/COMP – translating from the bench to the bedside. Matrix Biol. 2014;37:167-173. doi:10.1016/j.matbio.2014.05.006
Smith JA, Gaikwad A, Mosley S, et al. Utilization of an ex vivo human placental perfusion model to predict potential fetal exposure to carboplatin during pregnancy. Am J Obstet Gynecol. 2014;210(3):275.e1-275.e2759. doi:10.1016/j.ajog.2013.12.013
Posey KL, Coustry F, Veerisetty AC, Liu P, Alcorn JL, Hecht JT. Chondrocyte-specific pathology during skeletal growth and therapeutics in a murine model of pseudoachondroplasia. J Bone Miner Res. 2014;29(5):1258-1268. doi:10.1002/jbmr.2139
Yan Q, Quan Y, Sun H, et al. A site-specific genetic modification for induction of pluripotency and subsequent isolation of derived lung alveolar epithelial type II cells. Stem Cells. 2014;32(2):402-413. doi:10.1002/stem.1570
Carreno CA, Alcorn JL, Vidaeff AC, Bishop KD, Blackwell SC, Sibai BM. Corticosteroids effect on caspase 3 expression in an in-vitro model of hypoxic brain cells. J Matern Fetal Neonatal Med. 2013;26(17):1758-1761. doi:10.3109/14767058.2013.798287
Huang HW, Payne DE, Bi W, Pan S, Bruce SR, Alcorn JL. Sequences of a hairpin structure in the 3′-untranslated region mediate regulation of human pulmonary surfactant protein B mRNA stability. Am J Physiol Lung Cell Mol Physiol. 2012;302(10):L1107-L1117. doi:10.1152/ajplung.00015.2012
Coustry F, Posey KL, Liu P, Alcorn JL, Hecht JT. D469del-COMP retention in chondrocytes stimulates caspase-independent necroptosis. Am J Pathol. 2012;180(2):738-748. doi:10.1016/j.ajpath.2011.10.033
Posey KL, Coustry F, Veerisetty AC, Liu P, Alcorn JL, Hecht JT. Chop (Ddit3) is essential for D469del-COMP retention and cell death in chondrocytes in an inducible transgenic mouse model of pseudoachondroplasia. Am J Pathol. 2012;180(2):727-737. doi:10.1016/j.ajpath.2011.10.035
Pedroza M, Schneider DJ, Karmouty-Quintana H, et al. Interleukin-6 contributes to inflammation and remodeling in a model of adenosine mediated lung injury. PLoS One. 2011;6(7):e22667. doi:10.1371/journal.pone.0022667
Das A, Acharya S, Gottipati KR, et al. Thyroid transcription factor-1 (TTF-1) gene: identification of ZBP-89, Sp1, and TTF-1 sites in the promoter and regulation by TNF-α in lung epithelial cells [published correction appears in Am J Physiol Lung Cell Mol Physiol. 2011 Dec;301(6):L1003]. Am J Physiol Lung Cell Mol Physiol. 2011;301(4):L427-L440. doi:10.1152/ajplung.00090.2011
Chen MG, Atkins CL, Bruce SR, Khan AM, Liu Y, Alcorn JL. Infant formula alters surfactant protein A (SP-A) and SP-B expression in pulmonary epithelial cells. Pediatr Pulmonol. 2011;46(9):903-912. doi:10.1002/ppul.21455
Pepiak DL, Alcorn JL, Atkins CL, Xue H, Colasurdo GN, Khan AM. Effects of infant formula on cell homeostasis and cytokine levels in an in vivo and in vitro murine aspiration model. Pediatr Pulmonol. 2011;46(9):927-933. doi:10.1002/ppul.21444
Tillis CC, Huang HW, Bi W, Pan S, Bruce SR, Alcorn JL. Glucocorticoid regulation of human pulmonary surfactant protein-B (SP-B) mRNA stability is independent of activated glucocorticoid receptor. Am J Physiol Lung Cell Mol Physiol. 2011;300(6):L940-L950. doi:10.1152/ajplung.00420.2010
Posey KL, Liu P, Wang HR, Veerisetty AC, Alcorn JL, Hecht JT. RNAi reduces expression and intracellular retention of mutant cartilage oligomeric matrix protein. PLoS One. 2010;5(4):e10302. Published 2010 Apr 22. doi:10.1371/journal.pone.0010302
Wang D, Morales JE, Calame DG, Alcorn JL, Wetsel RA. Transplantation of human embryonic stem cell-derived alveolar epithelial type II cells abrogates acute lung injury in mice. Mol Ther. 2010;18(3):625-634. doi:10.1038/mt.2009.317
Posey KL, Veerisetty AC, Liu P, et al. An inducible cartilage oligomeric matrix protein mouse model recapitulates human pseudoachondroplasia phenotype. Am J Pathol. 2009;175(4):1555-1563. doi:10.2353/ajpath.2009.090184
Bruce SR, Atkins CL, Colasurdo GN, Alcorn JL. Respiratory syncytial virus infection alters surfactant protein A expression in human pulmonary epithelial cells by reducing translation efficiency. Am J Physiol Lung Cell Mol Physiol. 2009;297(4):L559-L567. doi:10.1152/ajplung.90507.2008
Alcorn JL, Merritt TM, Farach-Carson MC, Wang HH, Hecht JT. Ribozyme-mediated reduction of wild-type and mutant cartilage oligomeric matrix protein (COMP) mRNA and protein. RNA. 2009;15(4):686-695. doi:10.1261/rna.1335909
Huang HW, Bi W, Jenkins GN, Alcorn JL. Glucocorticoid regulation of human pulmonary surfactant protein-B mRNA stability involves the 3′-untranslated region. Am J Respir Cell Mol Biol. 2008;38(4):473-482. doi:10.1165/rcmb.2007-0303oc
Vidaeff AC, Ramin SM, Gilstrap LC 3rd, Bishop KD, Alcorn JL. Impact of progesterone on cytokine-stimulated nuclear factor-kappaB signaling in HeLa cells. J Matern Fetal Neonatal Med. 2007;20(1):23-28. doi:10.1080/14767050601128019
Brunelli L, Cieslik KA, Alcorn JL, Vatta M, Baldini A. Peroxisome proliferator-activated receptor-delta upregulates 14-3-3 epsilon in human endothelial cells via CCAAT/enhancer binding protein-beta. Circ Res. 2007;100(5):e59-e71. doi:10.1161/01.RES.0000260805.99076.22
Merritt TM, Bick R, Poindexter BJ, Alcorn JL, Hecht JT. Unique matrix structure in the rough endoplasmic reticulum cisternae of pseudoachondroplasia chondrocytes. Am J Pathol. 2007;170(1):293-300. doi:10.2353/ajpath.2007.060530
Merritt TM, Alcorn JL, Haynes R, Hecht JT. Expression of mutant cartilage oligomeric matrix protein in human chondrocytes induces the pseudoachondroplasia phenotype. J Orthop Res. 2006;24(4):700-707. doi:10.1002/jor.20100
Alcorn JL, Stark JM, Chiappetta CL, Jenkins G, Colasurdo GN. Effects of RSV infection on pulmonary surfactant protein SP-A in cultured human type II cells: contrasting consequences on SP-A mRNA and protein. Am J Physiol Lung Cell Mol Physiol. 2005;289(6):L1113-L1122. doi:10.1152/ajplung.00436.2004
Phokela SS, Peleg S, Moya FR, Alcorn JL. Regulation of human pulmonary surfactant protein gene expression by 1alpha,25-dihydroxyvitamin D3. Am J Physiol Lung Cell Mol Physiol. 2005;289(4):L617-L626. doi:10.1152/ajplung.00129.2004
Romero EJ, Moya FR, Tuvim MJ, Alcorn JL. Interaction of an artificial surfactant in human pulmonary epithelial cells. Pediatr Pulmonol. 2005;39(2):167-177. doi:10.1002/ppul.20166
Stark JM, Khan AM, Chiappetta CL, Xue H, Alcorn JL, Colasurdo GN. Immune and functional role of nitric oxide in a mouse model of respiratory syncytial virus infection. J Infect Dis. 2005;191(3):387-395. doi:10.1086/427241
Vidaeff AC, Ramin SM, Gilstrap LC 3rd, Alcorn JL. Characterization of corticosteroid redosing in an in vitro cell line model. Am J Obstet Gynecol. 2004;191(4):1403-1408. doi:10.1016/j.ajog.2004.06.049
Vidaeff AC, Ramin SM, Gilstrap LC 3rd, Alcorn JL. In vitro quantification of dexamethasone-induced surfactant protein B expression in human lung cells. J Matern Fetal Neonatal Med. 2004;15(3):155-159. doi:10.1080/14767050410001668248
Ramin SM, Vidaeff AC, Gilstrap LC 3rd, Bishop KD, Jenkins GN, Alcorn JL. The effects of dexamethasone and betamethasone on surfactant protein-B messenger RNA expression in human type II pneumocytes and human lung adenocarcinoma cells. Am J Obstet Gynecol. 2004;190(4):952-959. doi:10.1016/j.ajog.2004.01.015
Alcorn JL, Islam KN, Young PP, Mendelson CR. Glucocorticoid inhibition of SP-A gene expression in lung type II cells is mediated via the TTF-1-binding element. Am J Physiol Lung Cell Mol Physiol. 2004;286(4):L767-L776. doi:10.1152/ajplung.00280.2003
Mustafa SB, DiGeronimo RJ, Petershack JA, Alcorn JL, Seidner SR. Postnatal glucocorticoids induce alpha-ENaC formation and regulate glucocorticoid receptors in the preterm rabbit lung. Am J Physiol Lung Cell Mol Physiol. 2004;286(1):L73-L80. doi:10.1152/ajplung.00342.2002
Shlykov SG, Yang M, Alcorn JL, Sanborn BM. Capacitative cation entry in human myometrial cells and augmentation by hTrpC3 overexpression. Biol Reprod. 2003;69(2):647-655. doi:10.1095/biolreprod.103.015396
Razeghi P, Young ME, Alcorn JL, Moravec CS, Frazier OH, Taegtmeyer H. Metabolic gene expression in fetal and failing human heart. Circulation. 2001;104(24):2923-2931. doi:10.1161/hc4901.100526