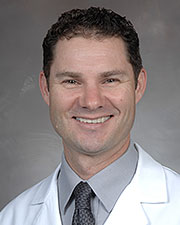 Matthew D. Brown, MD, MS, FSCAI
Associate Professor, Pediatric Cardiology
Education
Graduate School

University of Utah School of Medicine, Salt Lake City, UT, 2001

Residency

Pediatrics,Children's Mercy Hospital, Kansas City, Missouri, 2001-2004

Fellowship

Pediatric Cardiology/Interventional Pediatric Cardiology, The Medical College of Wisconsin/ Children's Hospital of Wisconsin, Milwaukee, Wisconsin, 2004-2008
Areas of Interest
Clinical Interests
Interventional Cardiac Catheterization
Pediatric Cardiology
Congenital Heart Defects
Research Interests
Varma M, Dodge-Khatami J, Donthula R, Chen P, Salazar J, Brown MD. Surgical Shunts Causing Circular Shunt: An Approach to Management.  Oral presentation at the Society for Cardiovascular and Angiographic Interventions 2020 Scientific Sessions, Atlanta, GA, May, 2020
Publications
Varma M, Dodge-Khatami J, Donthula R, Chen P, Salazar J, Brown MD. Surgical Shunts Causing Circular Shunt: An Approach to Management.  Oral presentation at the Society for Cardiovascular and Angiographic Interventions 2020 Scientific Sessions, Atlanta, GA, May, 2020.
Prida S, Brown MD, Breinholt JP. Recanalization of the left pulmonary artery with radio-frequency perforation and stent angioplasty after failed intraoperative stent implant. J Invasive Noninvasive Cardiol. 2018;1(1):14-17.
Brown MD, Breinholt JP. Recannulation of Left Pulmonary Artery with Radio-Frequency Perforation and Stent Angioplasty After Failed Hybrid Stent Angioplasty. Poster presentation, Pediatric and Adult Interventional Cardiac Symposium, Miami, FL, 2017.
Yarrabolu TR, Ozcelik N, Quinones J, Brown MD, Balaguru D. Anomalous origin of left coronary artery from pulmonary artery – Duped by 2D; saved by color Doppler: Echocardiographic lesson from two cases. Ann Pediatr Card 2014;7:230-2.
Brown MD, Fedderly RT, Pelech AN, Ghanayem NS, and Tweddell JS.  Hemodynamic and Angiographic Comparison of Patients with Hypoplastic Left Heart Syndrome Randomized to Stage 1 Palliation with BT Shunt or RV-PA Conduit.  Oral presentation, Midwest Pediatric Cardiology Society 31st Annual Scientific Meeting, St. Louis, MO, 2007.
Brown MD, Fedderly RT, Lamers LJ, Berger S, Pelech AN.  Transcatheter Stenting of an Acquired Stenotic Single Left Superior Vena Cava Baffled From the Left to Right Atrium. Poster presentation, Pediatric Interventional Cardiac Symposium, Las Vegas, NV, 2007.
Brown MD, Slocum GR, Greene, AS. Rat Model of Left Pulmonary Artery Hypoplasia. Poster presentation, Experimental Biology Annual Meeting, Washington, D.C., 2007.
Zangwill SD, Brown MD, Bryke, CR, Cava JR, Segura AD. Marfan syndrome type II: there is more to Marfan syndrome than fibrillin 1. Congenit Heart Dis. 1(5):229-32, 2006.
Brown MD and Frommelt PC. Intraoperative Rhythm Analysis Using Pulmonary Venous Doppler: Importance of Atrioventricular Interval. Pediatr Cardiol. 27:128-30, 2006.
Brown MD, Wernovsky G, Mussatto KA, Berger S. Long-Term and Developmental Outcomes of Children with Complex Congenital Heart Disease. Clin Perinatol. 32(4):1043-57, xi, 2005.
Certifications
American Board of Pediatrics: Pediatrics Cardiology