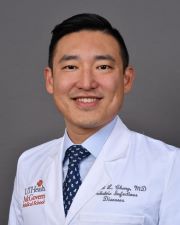 Assistant Professor
Director, Pediatric Antimicrobial Stewardship for McGovern Medical School and Children's Memorial Hermann Hospital
Education
Graduate School

Rice University, Houston, Texas, 1999-2003

Residency

UT Southwestern Medical School/Children's Medical Center of Dallas, Dallas, Texas, 2004-2006

Fellowship

UT Southwestern Medical School/Children's Medical Center of Dallas, Dallas, Texas, 2007-2010
Areas of Interest
Clinical Interests
Dr. Chang is the director of Pediatric Antimicrobial Stewardship for McGovern Medical School and Children's Memorial Hermann Hospital. In his role, Dr. Chang focuses primarily on Process Improvement, Healthcare Quality, and Patient Safety.
Research Interests
His primary research interest is the application of human-centered design to process improvement and medical education.
Publications
Leach K, Ellsworth M, Ostrosky L, Bell C, Masters K, Calhoun J, Ferguson L, Distefano SM, Chang ML. Evaluation of a telethermographic system for temperature screening at a large tertiary-care referral hospital during the corona virus disease 2019 (covid-2019) pandemic. Infect Control Hosp Epidemiol. 2020. doi: 10.1017/ice.2020.1254.
Ellsworth M, Chang ML, Ostrosky-Zeichner L. Mind the Gap: The Hospital Breakroom. American Journal of Infection Control. 2020.
Chong H, Al Hammoud R, Chang ML. Presumptive Dipylidium caninum infection in a toddler. Hindawi. 2020.
Alamarat Z, Perez N, Wootton S, Kamdar A, Smith K, Heresi G, Chang ML. Murine Typhus Outbreak Presenting at Multisystem Inflammatory Syndrome in Children During SARS-CoV-2 Pandemic. Pediatric Infectious Disease Journal. 2020. doi: 10.1097/INF.0000000000002947.
Tyungu D, McCormick D, Lau CT, Chang ML, Murphy J, Hotez PJ, Mejia R, Pollack H. Toxacara species environmental contamination in public spaces in New York City.2019.
Al Hammoud R, Murphy JR, Chang ML. Plasmodium vivax Infection in Multiple Family Members in Texas, USA. Case Rep Infect Dis. 2019;2019:8568710. doi: 10.1155/2019/8568710. PubMed PMID: 31281691; PMCID: PMC6590619.
Certifications
American Board of Pediatrics – Pediatrics -2006
American Board of Pediatrics  –Pediatric Infectious Diseases -2011