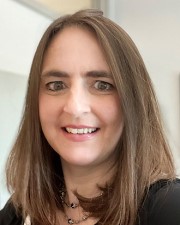 Associate Professor, Pediatric Research Center
Adjunct Associate Professor, Department of Genetics, The University of Texas MD Anderson Cancer Center
Co-Director, Program in Genetics and Epigenetics, MD Anderson UTHealth Houston Graduate School of Biomedical Sciences
Co-Chair, Women Faculty Forum, McGovern Medical School, UT Health Houston
Education
B.A., Biology and Physics

DePauw University, 2001

Ph.D., Genetics and Molecular Biology

Emory University, Atlanta, Georgia, 2007

Postdoctoral and Odyssey Fellow, Developmental and Cell Biology

The University of Texas MD Anderson Cancer Center, Houston, Texas, 2007-2012; Instructor 2012-2013
Areas of Interest
Research Interests
Although congenital anomalies of the kidney and urinary tract (CAKUT) are the predominant birth defects diagnosed in the prenatal period and are the most common cause of pediatric end stage renal disease, only 13% of cases have a known monogenic cause. CAKUT can result in defects in the formation of nephrons, which are required for the function of the kidney. During kidney development, early beta-catenin-mediated Wnt signaling, which is required for nephric mesenchyme condensation into epithelia, transitions to planar cell polarity (PCP)-mediated Wnt signaling, resulting in morphogenesis and differentiation of the nephron. A balance between beta-catenin and PCP signaling is thus critical in kidney formation and maintenance, with disruption of this balance promoting cystic diseases and kidney cancers. Our laboratory uses Xenopus (frog) embryos to understand how cells communicate via Wnt signaling to coordinate nephron formation and how this process goes awry giving rise to CAKUT.
Publications
(Selected Publications and Preprints)
A comparative study of cellular diversity between the Xenopus pronephric and mouse metanephric nephron
Corkins ME, Achieng M, De Lay BD, Krneta-Stankic V, Cain MP, Walker BL, Chen J, Lindström NO, Miller RK.
Kidney Int. 2022 Aug 30 [Epub ahead of print].
Tissue targeted CRISPR/Cas9-mediated genome editing of multiple homeologs in F0 generation Xenopus laevis embryos
Corkins ME, DeLay BD, Miller RK.
Cold Spring Harb Protoc. 2021 Dec 15.
Wnt/PCP Formin Daam1 Drives Cell-Cell Adhesion During Nephron Development
Krneta-Stankic V, Corkins ME, Paulucci-Holthauzen A, Kloc M, Gladden AB, Miller RK.
Cell Rep. 2021 Jul 6;36(1):109340.
Aquatic models of human ciliary diseases
Corkins ME, Krneta-Stankic V, Kloc M, Miller RK.
Genesis. 2021 Feb;59(1-2):e23410.
DYRK1A-related intellectual disability: a syndrome associated with congenital anomalies of the kidney and urinary tract
Blackburn ATM, Bekheirnia N, Uma VC, Corkins ME, Xu Y, Rosenfeld JA, Bainbridge MN, Yang Y, Liu P, Madan-Khetarpal S, Delgado MR, Hudgins L, Krantz I, Rodriguez-Buritica D, Wheeler PG, Al Gazali L, Al Shamsi A, Gomez-Ospina N, Chao H, Mirzaa GM, Scheuerle AE, Kukolich MK, Scaglia F, Eng C, Willsey HR, Braun MC, Lamb DJ, Miller RK, Bekheirnia M.
Genet Med. 2019 Dec;21(12):2755-2764.
Divergent roles of the Wnt/PCP formin Daam1 in renal ciliogenesis
Corkins ME, Krneta-Stankic V, Kloc M, McCrea PD, Gladden AB, Miller RK.
PLoS One, 2019 Aug 30;14(8):e0221698.
Modeling congenital kidney diseases in Xenopus laevis
Blackburn ATM, Miller RK.
Dis Model Mech. 2019 Apr 9;12(4).
Dynamin binding protein is required for Xenopus laevis kidney development
DeLay BD, Baldwin TA, Miller RK.
Front. Physiol., 26 February 2019.
Transgenic Xenopus laevis Line for In Vivo Labeling of Nephrons within the Kidney.
Corkins ME, Hanania HL, Krneta-Stankic V, DeLay BD, Pearl EJ, Lee M, Ji H, Davidson AJ, Horb ME, Miller RK.
Genes. 2018; 9(4).
Tissue-Specific Gene Inactivation in Xenopus laevis: Knockout of lhx1 in the Kidney with CRISPR/Cas9
DeLay BD, Corkins ME, Hanania HL, Salanga M, Deng JM, Sudou N, Taira M, Horb ME, Miller RK.
Genetics. 2018; 208(2):673-686.
Xenopus: leaping forward in kidney organogenesis
Krneta-Stankic V, DeLay BD, Miller RK.
Pediatric nephrology (Berlin, Germany). 2017; 32(4):547-555.
Kidney Development and Disease
Miller RK (Volume Editor)
Results and problems in cell differentiation. 2017, Springer Nature
Series Editors: Kubiak, Jacek Z., Kloc, Malgorzata.
Technique to Target Microinjection to the Developing Xenopus Kidney
DeLay BD, Krneta-Stankic V, Miller RK.
Journal of visualized experiments : JoVE. 2016; (111).
Miller RK, Lee M, McCrea PD.
1st ed. Kloc M, Kubiak JZ, editors. Oxford: John Wiley & Sons; 2014.
Chapter 12, The Xenopus Pronephros: A Kidney Model Making Leaps toward Understanding Tubule Development; p.215-238. 424p.
Beta-catenin versus the other armadillo catenins: assessing our current view of canonical Wnt signaling
Miller RK, Hong JY, Muñoz WA, McCrea PD.
Progress in molecular biology and translational science. 2013; 116:387-407.
Pronephric tubulogenesis requires Daam1-mediated planar cell polarity signaling
Miller RK, Canny SG, Jang CW, Cho K, Ji H, Wagner DS, Jones EA, Habas R, McCrea PD.
Journal of the American Society of Nephrology : JASN. 2011; 22(9):1654-64.
Wnt to build a tube: contributions of Wnt signaling to epithelial tubulogenesis
Miller RK, McCrea PD.
Developmental dynamics: an official publication of the American Association of Anatomists. 2010; 239(1):77-93.
Requirement of Wnt/beta-catenin signaling in pronephric kidney development
Lyons JP, Miller RK, Zhou X, Weidinger G, Deroo T, Denayer T, Park JI, Ji H, Hong JY, Li A, Moon RT, Jones EA, Vleminckx K, Vize PD, McCrea PD.
Mechanisms of development. 2009; 126(3-4):142-59.