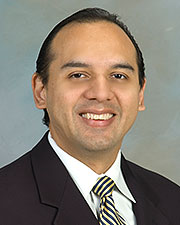 Ricardo A. Mosquera, MD, MPH
Professor
Division Director, Pediatric Pulmonary I Allergy / Immunology I Sleep
Biography
Dr. Ricardo Mosquera was born and raised in Colombia and received his Doctorate in Medicine from Universidad de Monterrey. He completed his pediatric residency at Texas A&M- Driscoll Children's Hospital and a pediatric pulmonary fellowship at The University of Texas Health Science Center at Houston (UTHealth).
Dr. Mosquera also completed a Master in Clinical Research at UTHealth, as his goal is to continue as a highly productive leader in research to develop, assess, and refine methods to improve the outcomes of children with pulmonary medical complexities, especially those in a minority and low-income families.
His biggest accomplishment thus far has been the development of a 360-degree healthcare model, designed to reduce fragmentation of care for this population. This model includes the integration of primary and subspecialty care at all settings: outpatient, inpatient and home with conventional telemedicine). Along with all of these components, Dr. Mosquera has published numerous articles and presented at various national conferences on topics that impact the health of children with medical complexity, especially in pulmonary medicine.
Dr. Mosquera enjoys spending time with his wife and kids, loves to travel.
Education
Graduate School

University of Monterrey, Monterrey, MX

Residency

Texas A&M University- Driscoll Children Hospital, Corpus Christi, TX

Fellowship

University of Texas-Houston Medicine School, Houston, TX
Publications
Blakely, M. L., Tyson, J. E., Lally, K. P., Hintz, S. R., Eggleston, B., Stevenson, D. K., … & Human Development Neonatal Research Network. (2021). Initial Laparotomy Versus Peritoneal Drainage in Extremely Low Birth weight Infants With Surgical Necrotizing Enterocolitis or Isolated Intestinal Perforation: A Multicenter Randomized Clinical Trial. Annals Surg. 2021 Oct 1: 274(4):e370-e380 PMID: 34506326  DOI: 10.1097/SLA.0000000000005099.
Mosquera RA, Avritscher EBC, Pedroza C, Lee KH, Ramanathan S, Harris TS, Eapen JC, Yadav A, Caldas-Vasquez M, Poe M, Castillo DJ, Harting MT, Ottosen MJ, Gonzalez T, Tyson JE. Telemedicine for Children With Medical Complexity: A Randomized Clinical Trial. Pediatrics. 2021 Sep 1;148(3):e2021050400.

PMID: 

34462343 DOI: 10.1542/peds.2021-050400.
Flores-Oria CA, Saturno E, Ramanathan S, Martinez Castillo, DJ, Kumar R, Ferrer N, Mossaad A, Tellez ME, Jon C, Waters S,  Mosquera RA . Intravenous immunoglobulin as adjuvant therapy for COVID-19: A case report and literature review.  SAGE Open Med Case Rep. 2021 Jun 30;9: 2050313X211029699 PMID: 34262773 DOI: 10.1177/2050313X211029699 eCollection 2021 .
Emanuel H, Ahlstrom K, Mitchell S, McBeth K, Yadav A, Oria CF, Da Costa C, Stark JM, Mosquera RA, Jon C. Cardiac arrhythmias associated with volume-assured pressure support mode in a patient with autonomic dysfunction and mitochondrial disease.  J Clin Sleep Med 2021 Apr 1; 17(4):853-857. PMID: 33231166 DOI:10.5664/jcsm.9024.
Flores-Oria CA, Stark JM, Mosquera RA, Brown DL, Menon NM, Sharma KP, Gonzales T, Nguyen T, Jon CK, Emanuel H, Yadav A. Sleep Apnea Screening in Children With Sickle Cell Anemia.  J Pediatr Hematol Oncol. 2021 Mar 31. PMID: 35383664 DOI: 10.1097/MPH

0000000000002452

.
Certifications
American Board of Pediatrics
American Board of Pediatrics Subspecialty Pediatric Pulmonology