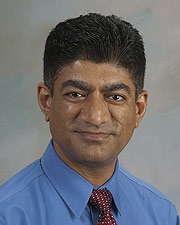 Chief, Division of Neonatal-Perinatal Medicine
Donald R. Park Professor in Pediatric Medicine
AVP, Community Programs - Neonatology, UT Physicians
Biography
Dr. Amir Khan was named the 2018 Dr. James "Red" Duke, Jr., Physician Leadership Award recipient. Dr. Khan is the current Medical Director of Children's Memorial Hermann Hospital's NICU, co-chair of the Neonatology CPC and Professor of Pediatrics, Division of Neonatology at McGovern Medical School at UTHealth.
The Dr. James "Red" Duke, Jr., Physician Leadership Award honors the life and legacy of iconic surgeon and educator, Dr. Duke, and his contributions, dedication and service to health care that have made a lasting impact on medicine, education and the medical community. The award is given to a physician who is part of the Memorial Hermann Clinical Integration and/or currently serves as a board member on any of the Memorial Hermann boards and committees, demonstrates strong leadership skills, strong business acumen and work with other Memorial Hermann entities to find innovative ways to improve the health of the people we serve.
Many of the successes Memorial Hermann has experienced in neonatology have been possible due to Dr. Khan's incredible leadership. Under Dr. Khan's leadership, a higher quality of care for neonates has resulted in shorter hospital stays, decreased infections and complications, as well as better serving the needs of new patients.
Education
Graduate School

Aga Khan University, Karachi, Pakistan, 1989

Pediatric Residency

University of Texas-Houston Medical School, Houston, Texas, 1991-1994

Neonatal-Perinatal Medicine Fellowship

University of Texas-Houston Medical School, Houston, Texas, 1994-1998
Areas of Interest
Research Interests
Lung inflammation in meconium aspiration syndrome
Gene-environment interactions and development of childhood asthma
GERD and chronic lung disease
Ventilatory strategies in neonatal lung diseases
Use of ECMO in neonatal and pediatric respiratory failure
Publications
Publication Information
Complete List of Published Work
Profit J, Adair KC, Cui X, et al. Randomized controlled trial of the "WISER" intervention to reduce healthcare worker burnout. J Perinatol. 2021;41(9):2225-2234. doi:10.1038/s41372-021-01100-y

Adams-Chapman I, Watterberg KL, Nolen TL, et al. Neurodevelopmental outcome of preterm infants enrolled in myo-inositol randomized controlled trial. J Perinatol. 2021;41(8):2072-2087. doi:10.1038/s41372-021-01018-5

Northrup TF, Stotts AL, Suchting R, et al. Thirdhand smoke associations with the gut microbiomes of infants admitted to a neonatal intensive care unit: An observational study. Environ Res. 2021;197:111180. doi:10.1016/j.envres.2021.111180

Kumbhat N, Eggleston B, Davis AS, et al. Umbilical Cord Milking vs Delayed Cord Clamping and Associations with In-Hospital Outcomes among Extremely Premature Infants. J Pediatr. 2021;232:87-94.e4. doi:10.1016/j.jpeds.2020.12.072

Northrup TF, Suchting R, Green C, Khan A, Klawans MR, Stotts AL. Duration of breastmilk feeding of NICU graduates who live with individuals who smoke. Pediatr Res. 2021;89(7):1788-1797. doi:10.1038/s41390-020-01150-6
Gupta VS, Khan AM, Ebanks AH, et al. Cornelia de Lange syndrome and congenital diaphragmatic hernia. J Pediatr Surg. 2021;56(4):697-699. doi:10.1016/j.jpedsurg.2020.06.003

Laptook AR, Shankaran S, Barnes P, et al. Limitations of Conventional Magnetic Resonance Imaging as a Predictor of Death or Disability Following Neonatal Hypoxic-Ischemic Encephalopathy in the Late Hypothermia Trial. J Pediatr. 2021;230:106-111.e6. doi:10.1016/j.jpeds.2020.11.015

Kumbhat N, Eggleston B, Davis AS, et al. Placental transfusion and short-term outcomes among extremely preterm infants. Arch Dis Child Fetal Neonatal Ed. 2021;106(1):62-68. doi:10.1136/archdischild-2019-318710

Northrup TF, Stotts AL, Suchting R, et al. Thirdhand Smoke Contamination and Infant Nicotine Exposure in a Neonatal Intensive Care Unit: An Observational Study. Nicotine Tob Res. 2021;23(2):373-382. doi:10.1093/ntr/ntaa167

Kirpalani H, Bell EF, Hintz SR, et al. Higher or Lower Hemoglobin Transfusion Thresholds for Preterm Infants. N Engl J Med. 2020;383(27):2639-2651. doi:10.1056/NEJMoa2020248

Northrup TF, Suchting R, Klawans MR, et al. Proactive delivery of nicotine replacement therapy to families of hospitalized infants in a NICU: A randomized controlled pilot trial. J Neonatal Nurs. 2020;26(4):201-206. doi:10.1016/j.jnn.2020.01.002

Arnold C, Tyson JE, Pedroza C, et al. Cycled Phototherapy Dose-Finding Study for Extremely Low-Birth-Weight Infants: A Randomized Clinical Trial [published correction appears in JAMA Pediatr. 2020 Jul 1;174(7):732]. JAMA Pediatr. 2020;174(7):649-656. doi:10.1001/jamapediatrics.2020.0559

Stotts AL, Northrup TF, Green C, et al. Reducing Tobacco Smoke Exposure in High-Risk Infants: A Randomized, Controlled Trial. J Pediatr. 2020;218:35-41.e1. doi:10.1016/j.jpeds.2019.10.070

Northrup TF, Stotts AL, Suchting R, et al. Medical staff contributions to thirdhand smoke contamination in a neonatal intensive care unit. Tob Induc Dis. 2019;17:37. Published 2019 Apr 24. doi:10.18332/tid/106116
Findley TO, Shah A, Bell C, Khan A. The value of serial newborn screening for congenital hypothyroidism using thyroxine (T4) in the neonatal intensive care unit. J Perinatol. 2019;39(8):1065-1071. doi:10.1038/s41372-019-0400-3
Sedlock EW, Ottosen M, Nether K, et al. Creating a comprehensive, unit-based approach to detecting and preventing harm in the neonatal intensive care unit. Journal of Patient Safety and Risk Management. 2018;23(4):167-175. doi:10.1177/2516043518787620
Szafranski P, Kośmider E, Liu Q, et al. LINE- and Alu-containing genomic instability hotspot at 16q24.1 associated with recurrent and nonrecurrent CNV deletions causative for ACDMPV. Hum Mutat. 2018;39(12):1916-1925. doi:10.1002/humu.23608
De Jesus-Rojas W, Mosquera RA, Samuels C, et al. The Effect of Comprehensive Medical Care on the Long-Term Outcomes of Children Discharged from the NICU with Tracheostomy. Open Respir Med J. 2018;12:39-49. Published 2018 Jul 31. doi:10.2174/1874306401812010039
Laptook AR, Shankaran S, Tyson JE, et al. Effect of Therapeutic Hypothermia Initiated After 6 Hours of Age on Death or Disability Among Newborns With Hypoxic-Ischemic Encephalopathy: A Randomized Clinical Trial [published correction appears in JAMA. 2018 Mar 13;319(10 ):1051. JAMA. 2017;318(16):1550-1560. doi:10.1001/jama.2017.14972
Shankaran S, Laptook AR, Pappas A, et al. Effect of Depth and Duration of Cooling on Death or Disability at Age 18 Months Among Neonates With Hypoxic-Ischemic Encephalopathy: A Randomized Clinical Trial. JAMA. 2017;318(1):57-67. doi:10.1001/jama.2017.7218
Holzmann‐Pazgal G, Khan AM, Northrup T, Domonoske C, Eichenwald EE Antimicrobial
Utilization in the Neonatal Intensive Care Unit (NICU): A Pressing Need for Stewardship,
Open Forum Infectious Diseases, Volume 3, Issue suppl_1, Fall 2016, 1928,
https://doi.org/10.1093/ofid/ofw172.1476
Mendez-Figueroa H, Truong VT, Pedroza C, Khan AM, Chauhan SP. Small-for-gestational-age infants among uncomplicated pregnancies at term: a secondary analysis of 9 Maternal-Fetal Medicine Units Network studies. Am J Obstet Gynecol. 2016;215(5):628.e1-628.e7. doi:10.1016/j.ajog.2016.06.043
Northrup TF, Khan AM, Jacob P 3rd, et al. Thirdhand smoke contamination in hospital settings: assessing exposure risk for vulnerable paediatric patients. Tob Control. 2016;25(6):619-623. doi:10.1136/tobaccocontrol-2015-052506
Holzmann-Pazgal G, Khan AM, Northrup TF, Domonoske C, Eichenwald EC. Decreasing vancomycin utilization in a neonatal intensive care unit. Am J Infect Control. 2015;43(11):1255-1257. doi:10.1016/j.ajic.2015.06.028
Northrup TF, Matt GE, Hovell MF, Khan AM, Stotts AL. Thirdhand Smoke in the Homes of Medically Fragile Children: Assessing the Impact of Indoor Smoking Levels and Smoking Bans. Nicotine Tob Res. 2016;18(5):1290-1298. doi:10.1093/ntr/ntv174
Shankaran S, Laptook AR, Pappas A, et al. Effect of depth and duration of cooling on deaths in the NICU among neonates with hypoxic ischemic encephalopathy: a randomized clinical trial. JAMA. 2014;312(24):2629-2639. doi:10.1001/jama.2014.16058
Stotts AL, Northrup TF, Schmitz JM, et al. Baby's Breath II protocol development and design: a secondhand smoke exposure prevention program targeting infants discharged from a neonatal intensive care unit. Contemp Clin Trials. 2013;35(1):97-105. doi:10.1016/j.cct.2013.02.012
Holzmann-Pazgal G, Kubanda A, Davis K, Khan AM, Brumley K, Denson SE. Utilizing a line maintenance team to reduce central-line-associated bloodstream infections in a neonatal intensive care unit. J Perinatol. 2012;32(4):281-286. doi:10.1038/jp.2011.91
Pepiak DL, Alcorn JL, Atkins CL, Xue H, Colasurdo GN, Khan AM. Effects of infant formula on cell homeostasis and cytokine levels in an in vivo and in vitro murine aspiration model. Pediatr Pulmonol. 2011;46(9):927-933. doi:10.1002/ppul.21444
Chen MG, Atkins CL, Bruce SR, Khan AM, Liu Y, Alcorn JL. Infant formula alters surfactant protein A (SP-A) and SP-B expression in pulmonary epithelial cells. Pediatr Pulmonol. 2011;46(9):903-912. doi:10.1002/ppul.21455
Shah SK, Khan AM, Cox CS Jr. Pulmonary hypertensive crisis requiring ECMO associated with re-warming from whole body hypothermia for hypoxic ischemic encephalopathy: clinical observations from a case series. Eur J Pediatr Surg. 2010;20(3):205-206. doi:10.1055/s-0029-1241872
Castro SM, Guerrero-Plata A, Suarez-Real G, et al. Antioxidant treatment ameliorates respiratory syncytial virus-induced disease and lung inflammation. Am J Respir Crit Care Med. 2006;174(12):1361-1369. doi:10.1164/rccm.200603-319OC
Colasurdo GN, Fullmer JJ, Elidemir O, Atkins C, Khan AM, Stark JM. Respiratory syncytial virus infection in a murine model of cystic fibrosis. J Med Virol. 2006;78(5):651-658. doi:10.1002/jmv.20589
Fullmer JJ, Khan AM, Elidemir O, Chiappetta C, Stark JM, Colasurdo GN. Role of cysteinyl leukotrienes in airway inflammation and responsiveness following RSV infection in BALB/c mice. Pediatr Allergy Immunol. 2005;16(7):593-601. doi:10.1111/j.1399-3038.2005.00248.x
Khan AM, Lally KP. The role of extracorporeal membrane oxygenation in the management of infants with congenital diaphragmatic hernia. Semin Perinatol. 2005;29(2):118-122. doi:10.1053/j.semperi.2005.04.005
Stark JM, Khan AM, Chiappetta CL, Xue H, Alcorn JL, Colasurdo GN. Immune and functional role of nitric oxide in a mouse model of respiratory syncytial virus infection. J Infect Dis. 2005;191(3):387-395. doi:10.1086/427241
Weisoly DL, Khan AM, Elidemir O, Smith KC. Congenital tuberculosis requiring extracorporeal membrane oxygenation. Pediatr Pulmonol. 2004;37(5):470-473. doi:10.1002/ppul.10423
Miller J, Colasurdo GN, Khan AM, et al. Immunocytochemical detection of milk proteins in tracheal aspirates of ventilated infants: a pilot study. Pediatr Pulmonol. 2002;34(5):369-374. doi:10.1002/ppul.10189
Khan AM, Elidemir O, Epstein CE, et al. Meconium aspiration produces airway hyperresponsiveness and eosinophilic inflammation in a murine model. Am J Physiol Lung Cell Mol Physiol. 2002;283(4):L785-L790. doi:10.1152/ajplung.00335.2001
Cochran JR, Khan AM, Elidemir O, et al. Influence of lipopolysaccharide exposure on airway function and allergic responses in developing mice. Pediatr Pulmonol. 2002;34(4):267-277. doi:10.1002/ppul.10161
Khan AM, Lally KP, Elidemir O, Colasurdo GN. Meconium enhances the release of nitric oxide in human airway epithelial cells. Biol Neonate. 2002;81(2):99-104. doi:10.1159/000047192
Khan AM, Lally KP, Larsen GL, Colasurdo GN. Enhanced release of thromboxane A(2) after exposure of human airway epithelial cells to meconium. Pediatr Pulmonol. 2002;33(2):111-116. doi:10.1002/ppul.10058
Gill BS, Neville HL, Khan AM, Cox CS Jr, Lally KP. Delayed institution of extracorporeal membrane oxygenation is associated with increased mortality rate and prolonged hospital stay. J Pediatr Surg. 2002;37(1):7-10. doi:10.1053/jpsu.2002.29417
Gitomer JJ, Khan AM, Ferris ME. Treatment of severe theophylline toxicity with hemodialysis in a preterm neonate. Pediatr Nephrol. 2001;16(10):784-786. doi:10.1007/s004670100650
Khan AM, Shabarek FM, Kutchback JW, Lally KP. Effects of dexamethasone on meconium aspiration syndrome in newborn piglets. Pediatr Res. 1999;46(2):179-183. doi:10.1203/00006450-199908000-00009
Khan AM, Shabarek FM, Zwischenberger JB, et al. Utility of daily head ultrasonography for infants on extracorporeal membrane oxygenation. J Pediatr Surg. 1998;33(8):1229-1232. doi:10.1016/s0022-3468(98)90156-7
Certifications
American Board of Pediatrics, General Pediatrics, 1995
American Board of Pediatrics, Neonatal-Perinatal Medicine, 2003