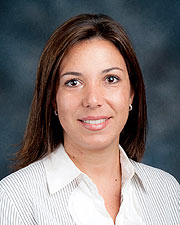 Ariadne M. Letra, D.D.S., M.S., Ph.D.
Education
Graduate School

University of Sao Paulo, Bauru Dental School, Bauru, SP, Brazil, 2007

Postdoc

University of Pittsburgh School of Dental Medicine, Pittsburgh, PA, 2007-2010
Areas of Interest
Clinical Interests
Craniofacial defects, cleft lip/palate, dental anomalies, oral inflammatory conditions.
---
Research Interests
Gene discovery in craniofacial birth defects (cleft lip/palate, dental anomalies), and oral inflammatory conditions. Molecular mechanisms of genetic variants. Correlation between human birth defects and cancer.
Publications
Publication Information
Letra A, Zhao M, Silva RM, Vieira AR, Hecht JT. Functional impact of MMP3 and TIMP2 gene polymorphisms in cleft lip/palate. J Dent Res. 2014; 93(7):651-656.
Lindor NM, Win AK, Gallinger S, Daftary D, Thibodeau SN, Silva R, Letra A. Colorectal cancer and self-reported tooth agenesis. Hered Cancer Clin Pract. 2014 Mar 10;12(1):7. doi: 10.1186/1897-4287-12-7.
Fontoura C, Silva RM, Granjeiro JM, Letra A. Association of WNT9B Gene Polymorphisms With Nonsyndromic Cleft Lip With or Without Cleft Palate in Brazilian Nuclear Families. Cleft Palate Craniofac J. 2014; 52(1):44-8.
Letra A, Silva R, Motta LG, Blanton S, Granjeiro JM, Hecht JT, Vieira AR. Association of MMP3 and TIMP2 Promoter Polymorphisms with Nonsyndromic Oral Clefts. Birth Defects Research Part A Clin Molec Teratol 2012; 94:540-548.
Letra A, Fakhouri W, Fonseca R, Menezes R, Kempa I, Prasad J, McHenry T, Lidral A, Moreno L, Murray JC, Daack-Hirsh S, Marazita ML, Castilla EE, Lace, B, Orioli IM, Granjeiro JM, Schutte BC, Vieira AR. Interaction between IRF6 and TGFA genes contribute to the risk of nonsyndromic cleft lip/palate. PLoS One. 2012;7(9):e45441.
Letra A, Bjork B, Cooper ME, Szabo-Rogers H, Deleyiannis FW, Field LL, Czeizel AE, Ma L, Garlet GP, Poletta FA, Mereb JC, Lopez-Camelo JS, Castilla EE, Orioli IM, Wendell S, Blanton SH, Liu K, Hecht JT, Marazita ML, Vieira AR, Silva RM. Association of AXIN2 with Non-syndromic Oral Clefts in Multiple Populations. J Dent Res. 2012; 91:473-478 (Journal Cover).
Certifications
Texas Board of Dental Examiners, 2015 (Dentistry)
Brazilian Council of Dentistry, Rio de Janeiro, Brazil, 1995 (DDS)
Brazilian Board of Endodontics, Rio de Janeiro, Brazil, 1999 (MS)