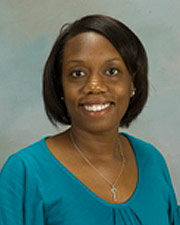 Education
Graduate School

Meharry School of Medicine, Nashville, Tennessee, 2002

Residency

The University of Texas Health Science Center at Houston, Houston, Texas, 2005
Publications
Publication Information
Beaudoin, E case report on "TB dressed up as Fever and Rash" in the August 2011 edition of Contemporary Pediatrics.
Williams, E, case report on "Congenital Testicular Torsion" in the August 2008 edition of Consultants for Pediatrics.
Williams, E, Ask the Experts! "I have heard that if my child has a fever, I should alternate between Tylenol (acetaminophen) and Motrin (ibuprofen). Why is that?" in the December 10, 2008, edition of The University of Texas Health Science Center at Houston Health Leader, an online wellness magazine.