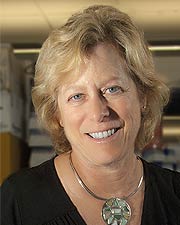 Jacqueline T. Hecht, Ph.D.
Professor, Pediatrics
Division Head, Pediatric Research Center Division
Vice Chair, Research
Distinguished Chair Leah L. Lewis, Pediatrics
Associate Dean, Research
Education
Graduate School

University of Texas School of Public Health, Houston, Texas, 1988
Areas of Interests
Clinical Interests
Medical Genetics, Orthopedic Genetic Disorders, Dwarfing Conditions, Craniofacial Disorders.
---
Research Interests
Gene discovery in cleft lip and palate, Role of mutant cartilage oligomeric matrix protein (MT-COMP) in pseudoachondroplasia.
Publications
Publication Information
Barba, A., Urbina, C., Maili, L., Greives, M.R., Blackwell, S.J., Mulliken, J.B., Chiquet, B., Blanton, S.H., Hecht, J.T., Letra, A.: Association of IFT88 gene variants with nonsyndromic cleft lip with or without cleft palate. Birth Defects Res. 2019 Apr 5. doi: 10.1002/bdr2.1504. [Epub ahead of print] PubMed PMID: 30953423.
Carlson, J.C., Anand, D., Butali, A., Buxo, C.J., Christensen, K., Deleyiannis, F., Hecht, J.T., Moreno, L.M., Orioli, I.M., Padilla, C., Shaffer, J.R., Vieira, A.R., Wehby, G.L., Weinberg, S.M., Murray, J.C., Beaty, T.H., Saadi, I., Lachke, S.A., Marazita, M.L., Feingold, E., Leslie, E.J.: A systematic genetic analysis and visualization of phenotypic heterogeneity among orofacial cleft GWAS signals. Genet Epidemiol. 2019 Sep;43(6):704-716. doi: 10.1002/gepi.22214. Epub 2019 Jun 6. PMID:31172578
Hoover-Fong, J., Alade, A.Y., Ain, M., Berkowitz, I., Bober, M., Carter, E., Hecht, J.T., Hoerschemeyer, D., Krakow, D., MacCarrick, G., Mackenzie, W.G., Mendoza, R., Okenfuss, E., Popplewell, D., Raggio, C., Schulze, K,. McGready, J.: Blood pressure in adults with short stature skeletal dysplasias. Am J Med Genet A. 2020 Jan;182(1):150-161. doi: 10.1002/ajmg.a.61402. Epub 2019 Nov 15. PMID:31729121
Mukhopadhyay, , Madison Bishop, M., Mortillo, M., Chopra, P., Hetmanski, J.B., Taub, M.A., Moreno, L.M., Valencia-Ramirez, L.C., Restrepo, C., Wehby,, G.L., Hecht, J.T., Frederic Deleyiannis, F., Butali, A., Weinberg, S.M., Beaty, T.H., Murray, J.C., Leslie, E.J., Feingold, E.,  Marazita, M.L.:  Whole genome sequencing of orofacial cleft trios from the Gabriella Miller Kids First Pediatric Research Consortium identifies a new locus on chromosome 21.  Hum Genet. 2020 Feb;139(2):215-226. doi: 10.1007/s00439-019-02099-1. Epub 2019 Dec 17. PMID:31729121 PMCID: PMC6981325
Maili, L., Letra, A., Silva, R., Buchanan, E.P., Mulliken, J.B., Greives, M.R., Teichgraeber, J.F., Blackwell, S.J., Ummer, R., Weber, R., Chiquet, B., Blanton, S.H., Hecht, J.T.: PBX-WNT-P63-IRF6 pathway in nonsyndromic cleft lip and palate. Birth Defects Res. 2020 Feb 1;112(3):234-244. doi: 10.1002/bdr2.1630. Epub 2019 Dec 11. PMID:31825181
Neiswanger, K., Mukhopadhyay, , Rajagopalan, S., Leslie, E.J., Sanchez, C.A., Hecht, J.T., Orioli, I.M., Poletta, F.A., de Salamanc,a J.E., Weinberg, S.M., Marazita, M.L.: Individuals with nonsyndromic orofacial clefts have increased asymmetry of fingerprint patterns. PLoS One, 2020 Mar, doi: 10.1371/journal.pone.0230534 PMCID:PMC7083315
Additional Information
American Board of Medical Genetics, 1982 (M.S.)
American Board of Medical Genetics, 2009 (Ph.D.)
American Board of Genetic Counseling, 2003 (M.S.)