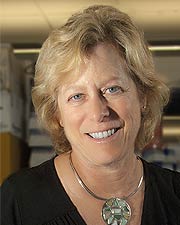 Jacqueline T. Hecht, Ph.D.
Professor, Pediatrics
Division Head, Pediatric Research Center Division
Vice Chair, Research
Distinguished Chair Leah L. Lewis, Pediatrics
Associate Dean, Research
Education
B.S., Biology

New York University, 1968

M.S., Human Genetics and Genetics Counseling

University of Colorado Health Sciences Center, 1976

Ph.D., Epidemiology

University of Texas School of Public Health, 1988
Areas of Interest
Clinical Interests
Medical Genetics, Orthopedic Genetic Disorders, Dwarfing Conditions, Craniofacial Disorders.
---
Research Interests
Gene discovery in cleft lip and palate, Role of mutant cartilage oligomeric matrix protein (MT-COMP) in pseudoachondroplasia.
Publications
Publication Information
Skeletal dysplasias/ Dwarfing conditions
Coustry, F., Posey, K.L., Maerz, T., Baker, K., Abraham, A.M., Ambrose, C.G., Nobakhti, S., Shefelbine, S.J., Bi, X., Newton, M., Gawronski, K., Remer, L., Veerisetty, A.C., Hossain, M.G., Chiu, F., Hecht, J. T.: Mutant cartilage oligomeric matrix cartilage (COMP) compromises bone integrity, joint function and the balance between adipogenesis and osteogenesis. Matrix Biol., April 2018 PMID:29309831 PMCID: PMC5910205
Posey, K.L., Coustry, F., Veerisetty, A.C., Hossain, M.G., Gambello, M.J., Hecht, J.T.:  Novel mTORC1 mechanism suggest therapeutic targets for COMPopathies.  Am J Pathol 2019 Jan;189(1):132-146. doi: 10.1016/j.ajpath.2018.09.008. PMID: 30553437 PMCID: PMC6412713
Hecht, J.T., Coustry, F., Veerisetty, A.C., Hossain, M.G., Posey, K.L.:  Resveratrol reduces COMPopathy in mice through activation of autophagy. J Bone Min Res Plus 2020 doi,org/10.1002/jbm4.10456
Hecht, J.T., Veerisetty, A.C., Wu, J., Hossain, M.G., Chiu, F., Gannon, F.H., Posey, K.L.: Primary OA phenotype induced by ER-stress is mitigated by resveratrol. Submitted Am J Pathol 2021
Hoover-Fong, J., Alade, A.Y., Hashmi, S.S., Hecht, J.T., Legare, J., Little, M.E., Liu, C., McGready, J., Modaff, P., Pauli, R.M., Rodriguez-Buritica, D., Schulze, K., Serna E., Smil, C., Bober M.B.: CLARITY: Achondroplasia Natural History Study – a multi-center retrospective cohort study of achondroplasia.  In press Genet Med J 2021
Cleft lip and palate gene discovery
Chiquet, B.T., Yuan, Q., Swindell, E.C., Maili, L., Plant, R., Dyke, J., Boyer, R., Teichgraeber, J.F., Greives, M.R., Mulliken, J.B., Letra, A., Blanton, S.H., Hecht, J.T.: Knockdown of Crispld2 in zebrafish identifies a novel network for nonsyndromic cleft lip with or without cleft palate candidate genes.  doi: 10.1038/s41431-018-0192-5. Epub 2018 Jun 13 (10):1441-1450. Eur J Hum Genet. October 26, 2018 PMID: 29899370 PMCID: PMC6138754
Maili, L., Letra, A., Silva, R., Buchanan, E.P., Mulliken, J.B., Greives, M.R., Teichgraeber, J.F., Blackwell, S.J., Ummer, R., Weber, R., Chiquet, B., Blanton, S.H., Hecht, J.T.: PBX-WNT-P63-IRF6 pathway in nonsyndromic cleft lip and palate. Birth Defects Res. 2020 Feb 1;112(3):234-244. doi: 10.1002/bdr2.1630. Epub 2019 Dec 11. PMID:31825181
Morris, V.E., Hashmi, S.S., Zhu, L., Urbina, C., Greives, M.R., Buchanan, E.P., Mulliken, J.B., Blanton, S.H., Zheng, W.J., Hecht JT, Letra, A.:  Evidence for craniofacial enhancer underlying nonsyndromic cleft lip and palate.  Hum Genet, 2020 April, doi.org/10.1007/s00439-020-02169-9 PMID: 32318854
Bishop, M.R., Diaz Perez, K.K., Sun, M., Ho, S., Chopra, P., Mukhopadhyay, N., Hetmanski, J.B., Taub, M.A., Moreno-Uribe, L.M., Valencia-Ramirez, C.L., Restrepo, C.P.,  Wehby, G., Hecht, J.T., Deleyiannis, F., Weinberg, S.M., Wu-Chou, Y.H., Chen, P.K., Brand, H., Epstein, M.P., Ruczinski, I., Murrary, J.C., Beaty, T.H., Feingold, E.,  Lipinski, R.J., Cutler, D.J., Marazita, M.L.: Genome-wide Enrichment of De Novo Coding Mutations in Orofacial Cleft Trios doi.org/10.1016/j.ajhg.2020.05.018
Young, J., Lifer, S.S., Blanton, S., Hecht, J.T.: DNA methylation variation is identified inmonozygotic twins discordant for nonsyndromic cleft lip and palate. Submitted Frontiers Cell Dev Biol 2021
Board Certifications
American Board of Medical Genetics, 1982 (M.S.)
American Board of Medical Genetics, 2009 (Ph.D.)
American Board of Genetic Counseling, 2003 (M.S.)