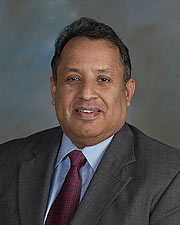 Professor, Pediatrics
Vice-Chairman, Financial Operations, Pediatric Department
Chief of Pediatrics, LBJ Hospital
Assistant Professor, The University of Texas-Houston School of Nursing
Education
Graduate School

University of Minnesota Medical School, Minneapolis, Minnesota, 1978

Pediatric Residency

Madigan Army Medical Center, Department of Pediatrics, Tacoma, Washington, 1981

Neonatal-Perinatal Medicine Fellowship

Tripler Army Medical Center, Pediatrics, Honolulu, Hawaii, 1983
Areas of Interests
Clinical Interests
• Sensitivity of Positive Blood Cultures in the Newborn Population
• Necrotizing Enterocolitis
Publications
Publication Information
Tsakiri S, Zacharias N, Garcia J, Mazur L. Cranial Asymmetry Versus Microcephaly: Implications for Practice During the Zika Virus Epidemic. Tex Med. 2017;113(8):e1.
PMID: 28783840
---
Zacharias N, Whitty J, Noblin S, Tsakiri S, Garcia J, et al. First Neonatal Demise with Travel-Associated Zika Virus Infection in the United States of America. AJP Rep. 2017;7(2):e68-e73.
DOI: 10.1055/s-0037-1601890
PMCID: PMC5391262
PMID: 28413694
---
Caple J, Armentrout D, Huseby V, Halbardier B, Garcia J, et al. Randomized, controlled trial of slow versus rapid feeding volume advancement in preterm infants. Pediatrics. 2004;114(6):1597-600.
DOI: 10.1542/peds.2004-1232
PMID: 15574620
---
Yetman RJ, Parks DK, Huseby V, Mistry K, Garcia J. Rebound bilirubin levels in infants receiving phototherapy. J Pediatr. 1998;133(5):705-7.
PMID: 9821435
---
Garcia J, Smith FR, Cucinell SA. Urinary D-lactate excretion in infants with necrotizing enterocolitis. J Pediatr. 1984;104(2):268-70.
PMID: 6694024
---
Certifications
American Board of Pediatrics, General Pediatrics, 1985
American Board of Pediatrics, Neonatal-Perinatal Medicine, 1987