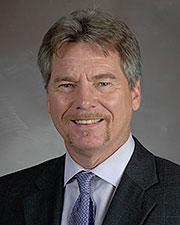 Joseph L. Alcorn, Jr., PhD
Education
Graduate School

Cell and Molecular Biology, University of Texas at Dallas, Richardson, Texas, 1988

Post Graduate School

University of Texas Southwestern Medical Center at Dallas, Department of Biochemistry, Dallas, Texas, 1988-1990
Areas of Interests
Clinical Interests
Pulmonary surfactant proteins (SP's) play key roles in the function and defense of the lung; SP-B and SP-C are crucial in reducing alveolar surface tension while SP-A and SP-D are key in pulmonary host defense and modulation of inflammation. Our research interests revolve around understanding the role of surfactant proteins in two severe pathologies affecting prematurely-born neonates; respiratory distress syndrome (RDS) and necrotizing enterocolitis (NEC).
While the lack of SP-B due to premature birth can lead to lung dysfunction and RDS, antenatal administration of glucocorticoids increases SP-B expression, in part, by increasing SP-B mRNA stability. We have identified sequences in the human SP-B mRNA 3'-untranslated region necessary for increased mRNA stability and are now identifying proteins that bind to these sequences. Our goal is to define this regulatory mechanism in order to devise therapies to accelerate SP-B expression in premature infants without the use of glucocorticoids.
NEC is a devastating disease often associated with pre-maturity that results in partial or total destruction of the immature intestine via inappropriate bacterial colonization and rampant inflammation. In the lung, SP-A functions to reduce bacterial colonization and inflammation, and SP-A is expressed in the gastrointestinal tract. We found that SP-A reduces inflammatory cytokines in the intestine and colon of neonatal mice. In addition, we find that SP-A can reduce pathology in rodent models of NEC. SP-A appears to reduce levels of a key player in NEC, toll-like receptor-4 (TLR4) through increased proteasomal degradation. Our goal is to define the protective mechanism of SP-A in immature intestine and establish a link between the incidence of NEC and intestinal SP-A levels. These studies provide may a new paradigm in which the under-appreciated extra-pulmonary functions of SP-A may help protect the immature intestine. Defining the mechanism of this protection will allow us to design therapies that exploit the immunomodulatory properties of SP-A to prevent and treat NEC in prematurely-born infants.
---
Research Interests
Transcriptional and post-transcriptional regulation of pulmonary surfactant proteins in the lung and gastrointestinal tract.
The role of SP-A in modulating TLR4 in intestinal epithelium.
Interactions of surfactant proteins with environmental insults (RSV, particulate matter)
Genetic influences on pulmonary type II epithelial cell biology and surfactant function
Publications
Publication Information
Quintanilla HD, Liu Y, Fatheree NY, Atkins CL, Hashmi SS, Floros J, McCormack FX, Rhoads JM, Alcorn JL. Pulmonary Surfactant Protein-A Reduces Adverse Outcomes in a Rat Model of Necrotizing Enterocolitis. J Pedi Gastro Nutr.  60: 613-620, 2015.
DOI: 10.1097/MPG.0000000000000678
PMCID: PMC5027895
PMID: 25539191
---
Huang HW, Payne DE, Bi W, Pan S, Bruce SR, Alcorn JL.  Sequences of a hairpin structure in the 3′-untranslated region mediate regulation of human pulmonary surfactant protein B mRNA stability. Am J Physiol Lung Cell Mol Physiol 302:L1107-1017. 2012.
DOI: 10.1152/ajplung.00015.2012
PMCID: PMC3362263
PMID: 22367784
---
Tillis CC, Huang HW, Bi W, Pan S, Bruce SR, Alcorn JL. Glucocorticoid regulation of human pulmonary surfactant protein-B (SP-B) mRNA stability is independent of activated glucocorticoid receptor. Am J Physiol Lung Cell Mol Physiol. 300:L940-950. 2011.
DOI: 10.1152/ajplung.00420.2010
PMCID: PMC3119123
PMID: 21398497
---
Wang D, Morales JE, Calame DG, Alcorn JL, Wetsel RA. Transplantation of human embryonic stem cell-derived alveolar epithelial type II cells abrogates acute lung injury in mice. Mol Ther. 18:625-634, 2010.
DOI: 10.1038/mt.2009.317
PMCID: PMC2839438
PMID: 20087316
---
Bruce SR, Atkins CL, Colasurdo GN, Alcorn JL. Respiratory Syncytial Virus (RSV) Infection Alters Surfactant Protein-A (SP-A) Expression in Human Pulmonary Epithelial Cells by Reducing Translation Efficiency. Am J Physiol Lung Cell Mol Physiol., 2009.
DOI: 10.1152/ajplung.90507.2008
PMCID: PMC2770795
PMID: 19525387
---
Huang, HW, Bi W, Jenkins GN, and Alcorn JL. Glucocorticoid regulation of human surfactant protein-B mRNA stability involves the 3'-UTR.  Am J Respir Cell Mol Biol. 38:473-482, 2008.
DOI: 10.1165/rcmb.2007-0303OC
PMCID: PMC2274950
PMID: 18006875
---