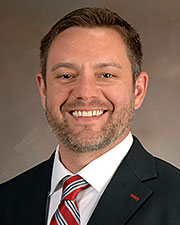 Assistant Professor, Pediatrics
Education
Graduate School

Georgia State University, Atlanta, Georgia, 2014

Postdoc

University of Texas Health Science Center at Houston, Houston, Texas, 2014-2016
Areas of Interest
Research Interests
Dr. Foster specializes in the acquisition and measurement of language, literacy, and mathematics skills; learning and developmental disabilities; school-based interventions; and program evaluation and statistics. Dr. Foster's research focusses on mathematical development, evaluation of prevention and intervention programs for children at risk for academic failure, construction of measures of school readiness skills, and application of advanced statistics to educational research. With support from the A. R. Tony and Maria J. Sanchez Family Foundation, Dr. Foster directs a Tier II intervention in mathematics for students in first through third grade enrolled in Houston ISD, charter schools, and private schools. During the summer, the Mathematics Outreach Program provides summer camps with an academic curriculum stressing foundational mathematical skills.
Publications
Publication Information
Foster, M. E., Sevcik, R. A., Romski, M., & Morris, R. D. (2014). The effects of phonological awareness and naming speed on mathematics skills in children with mild intellectual disability. Developmental Neurorehabilitation, 18(5), 304-316. doi:10.3109/17518423.2013.843603
Foster, M. E., Anthony, J. L., Clements, D. H., & Sarama, J. (2015). Processes in the development of mathematics in kindergarten children from Title 1 schools. Journal of Experimental Child Psychology, 140, 56-73. doi: 10.1016/j.jecp.2015.07.004.
Foster, M. E., Anthony, J. L., Clements, D. H., & Sarama, J. H., & Williams, J. M. (2016). Improving mathematics learning of kindergarten students through computer assisted instruction. Journal for Research in Mathematics Education, 47(3), 206-232.
Certifications
Collaborative Teaching in Special Education (Pre-K-12) with Reading Endorsement
Georgia Department of Education License #659730