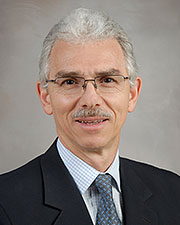 Medical Director, Gulf States Hemophilia and Thrombophilia
Professor, UTHealth Houston
Professor, M.D. Anderson Cancer Center
Education
Graduate School

Universidad Libre School of Medicine, Cali, Colombia, 1988

Residency

University of Connecticut Health Center, Farmington, CT, 1993 - 1996

Fellowship

University of North Carolina at Chapel Hill, Chapel Hill, NC, 1996 - 1999
Areas of Interest
Clinical Interests
Hemophilia, Thrombophilia and other congenital and acquired bleeding and clotting disorders
---
Research Interests
Hemophilia and Inhibitors.
General Hemostasis,
Thrombophilia and Venous Thromboembolism
Publications
Publication Information
Champion H.R, Fingerhut, A., Escobar, M.A., Weiskopf, R. The Role of Data and Safety Monitoring in Acute Trauma Resuscitation Research. Journal of the American College of Surgeons. 2007;204:73-83.
Roberts, H.R., Escobar, M.A. White, G.C. Hemophilia A and Hemophilia B, in Williams Hematology. Seventh edition. Beutler E., et al editors. McGraw Hill. 2006.
Roberts, H.R., Escobar, M.A. Inherited disorders of prothrombin conversion, in Hemostasis and Thrombosis: basic principles and clinical practice. Colman RW, Hirsh J, Marder VJ et al, editors. Lippincott Williams & Wilkins. Fifth Edition. 2006.
Souza J.A., Escobar M.A. Rituximab as a Treatment Option for Acquired Inhibitors. Blood 2006;108(11):95b
Escobar, M.A. Endpoints in clinical trials involving hemostasis and bleeding. Transfusion. 2005.45:s1:2S-3S.
Certifications
Internal Medicine
Hematology