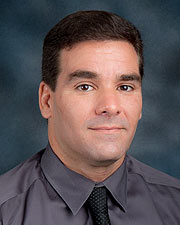 Renato M. Silva, DDS, MS, PhD
Education
Graduate School

University of Sao Paulo, Bauru, SP, 2006

Postdoc

University of Pittsburgh, Pittsburgh, PA, 2006-2009

Fellowship

University of Sao Paulo, Bauru, SP, 1998
Areas of Interest
Clinical Interests
Cleft lip and palate, oral cancer, apical periodontitis
---
Research Interests
Renato Silva, DDS, PhD is an endodontist with research interests in Oral Sciences and Human Molecular Genetics. Dr. Silva research focuses on genetic susceptibility of periapical disease, a chronic inflammatory process associated with bone loss in the jaws and nonsyndromic cleft lip and palate.  In vitro and in vivo protein delivery methods which promote healing and tissue regeneration after apical periodontitis are being tested.
Publications
Publication Information
Araujo-Pires A, Biguetti CC, Repeke CE, Rodini CO, Campanelli AP, Trombone AP, Ariadne Letra A, Silva RM, Garlet GP. Mesenchymal Stem Cells as Active Prohealing and Immunosuppressive Agents in Periapical Environment: Evidence from Human and Experimental Periapical Lesions. J Endod 2014, 40: 1560-1565.
Letra A, Zhao M, Silva RM, Vieira AR, Hecht JT. Functional Significance of MMP3 and TIMP2 Polymorphisms in Cleft Lip/Palate. J Dent Res. 2014, 93:651-656.
Letra A, Bjork B, Cooper ME, Szabo-Rogers H, Deleyiannis FW, Field LL, Czeizel AE, Ma L, Garlet GP, Poletta FA, Mereb JC, Lopez-Camelo JS, Castilla EE, Orioli IM, Wendell S, Blanton SH, Liu K, Hecht JT, Marazita ML, Vieira AR, Silva RM. Association of AXIN2 with non-syndromic oral clefts in multiple populations. J Dent Res 2012; 91:473-8. Journal cover
Andrade Filho PA, Letra A, Cramer A, Prasad JL, Garlet GP, Vieira AR, Ferris RL, Menezes R. Insights from studies with oral cleft genes suggest associations between WNT-pathway genes and risk of oral cancer. J Dent Res 2011; 90:740-746.
Beaty TH, Murray JC, Marazita ML, Munger RG, Ruczinski I, Hetmanski JB, Liang KY, Wu T, Murray T, Fallin MD, Redett RA, Raymond G, Schwender H, Jin SC,  Cooper ME, Dunnwald M, Mansilla MA, Leslie E, Bullard S, Lidral AC, Moreno LM, Menezes R, Vieira AR, Petrin A, Wilcox AJ, Lie RT, Jabs EW, Wu-Chou YH, Chen PK, Wang H, Ye X,  Huang S, Yeow, Vincent, Chong, Samuel S, Jee, Sun Ha, Shi, Bing, Christensen K, Doheny K, Pugh EW, Ling Hua, Castilla EE, Czeizel AE, Ma L, Field, LL, Brody L,  Pangilinan F,  Mills JL, Molloy, Anne MK, Peadar N, Scott JM, Arcos-Burgos M; Scott AF. A genome-wide association study of cleft lip with and without cleft palate identifies risk variants near MAFB and ABCA4. Nature Genetics 2010; 42:525-529.
Certifications
Federal Council of Dentistry, Rio de Janeiro, Brazil – Endodontics, 1997