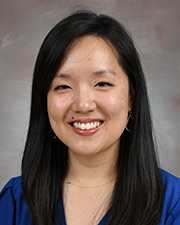 Assistant Professor, Pediatrics
Education
Graduate School

The University of Texas Health Science Center at San Antonio, San Antonio, TX, 2010

Residency

The University of Texas Health Science Center at San Antonio, San Antonio, TX, 2010-2013

Neonatal-Perinatal Medicine Fellowship

The University of Texas McGovern Medical School at Houston, Houston, TX, 2013-2016
Areas of Interest
Research Interests
Folate nutrigenetics in congenital heart defects
Newborn screening/hypothyroidism in premature infants
Publications
Publication Information
Findley TO, Crain AK, Mahajan S, et al. Congenital heart defects and copy number variants associated with neurodevelopmental impairment [published online ahead of print, 2021 Sep 2]. Am J Med Genet A. 2021;10.1002/ajmg.a.62484. doi:10.1002/ajmg.a.62484
Le TP, Zhao X, Erhardt S, Gu J, Wang H, Findley TO, Wang J. An Optimized O9-1/Hydrogel System for Studying Mechanical Signals in Neural Crest Cells. J Vis Exp. 2021;(174):10.3791/62693. Published 2021 Aug 13. doi:10.3791/62693
Erhardt S, Zheng M, Zhao X, Le TP, Findley TO, Wang J. The Cardiac Neural Crest Cells in Heart Development and Congenital Heart Defects. J Cardiovasc Dev Dis. 2021;8(8):89. Published 2021 Jul 30. doi:10.3390/jcdd8080089
Zhao X, Le TP, Erhardt S, Findley TO, Wang J. Hippo-Yap Pathway Orchestrates Neural Crest Ontogenesis. Front Cell Dev Biol. 2021;9:706623. Published 2021 Jul 8. doi:10.3389/fcell.2021.706623
Findley TO, Northrup H. The current state of prenatal detection of genetic conditions in congenital heart defects. Translational Pediatrics2021;10(8):2157-70. doi: 10.21037/tp-20-315
Findley TO, Shah A, Bell C, Khan A. The value of serial newborn screening for congenital hypothyroidism using thyroxine (T4) in the neonatal intensive care unit. J Perinatol. 2019;39(8):1065-1071. doi:10.1038/s41372-019-0400-3
Findley T, Patel M, Chapman J, Brown D, Duncan AF. Acquired Versus Congenital Neonatal Purpura Fulminans: A Case Report and Literature Review. J Pediatr Hematol Oncol. 2018;40(8):625-627. doi:10.1097/MPH.0000000000001150
Findley TO, Tenpenny JC, O'Byrne MR, et al. Mutations in folate transporter genes and risk for human myelomeningocele. Am J Med Genet A. 2017;173(11):2973-2984. doi:10.1002/ajmg.a.38472
Au KS, Findley TO, Northrup H. Finding the genetic mechanisms of folate deficiency and neural tube defects-Leaving no stone unturned. Am J Med Genet A. 2017;173(11):3042-3057. doi:10.1002/ajmg.a.38478
Suh JH, Oak T, Ro JY, Truong LD, Ayala AG, Shen SS. Clinicopathologic features of renal cell carcinoma in young adults: a comparison study with renal cell carcinoma in older patients. Int J Clin Exp Pathol. 2009;2(5):489-493.
Certifications
American Board of Pediatrics, General Pediatrics, 2013
American Board of Pediatrics, Neonatal-Perinatal Medicine, 2018