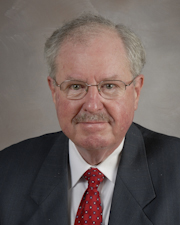 Education
Graduate School

The University of Minnesota, Minneapolis, Minnesota, 1969

Residency

St. Louis Children's Hospital, Washington University School of Medicine, St Louis, MO, 1969-1974

Fellowship

St. Louis Children's Hospital, Washington University School of Medicine, St Louis, MO, 1969-1974
Areas of Interests
Clinical Interests
1.Digestive and nutritional problems of infants and children
2.Mechanism of vitamin D enhanced intestinal calcium absorption
3.Gastrointestinal development
4.Protein-losing enteropathy in infants and children.
Publications
Publication Information
Publications:
Gleason WA: Conjugated and Unconjugated Hyperbilirubinemia and Disorders of the Hepatobiliary Tree, Chapter 10-11 in Burg, FD, Ingelfinger JR and Polin RA and Gershon AA (eds) Current Pediatric Therapy, 18th edition, 2006, Philadelphia, Elsevier, Inc pp 560-563
Gleason WA: Protein-losing Enteropathy, Chapter 17.21.6 in Rudolph CD, Rudolph AM, Hostetter M K, Lister G, and Siegel NJ (eds) Rudolph's Pediatrics, 21st Edition, New York, McGraw Hill, 2003, pp. 1449-50
Gleason WA: Protein-losing Enteropathy, in Wylie R and Hyams JS (eds)" Pediatric Gastrointestinal Disease: Pathophysiology, Diagnosis, Management", Philadelphia, WB Saunders Company, 2nd edition, 1999, pp. 298-305
Presentations:
Gleason WA and Lankford GL: Intestinal calcium-binding protein in the developing rat duodenum. (Presented to the Society for Pediatric Research, San Francisco, CA, May 28, 1981). Pediatr. Res. 15:533, 1981.
Gleason WA and Lankford GL: Biochemical characterization of the rat intestinal calcium-binding protein (CaBP). (Presented to the 5th Annual Meeting of the American Society for Bone and Mineral Research, San Antonio, TX, June 5, 1983). Calcified Tissue Int. 35:693, 1983.
Gleason WA, Kitagawa S and Shulman RJ: Improved prognosis after neonatal small bowel resection, Presented to the North American Society for Pediatric Gastroenterology and Nutrition, Chicago, IL. October 30-31, 1992.
Gleason WA, Figueroa-Colon R, Robinson LH, Browder-Hughes S, Phillips R, Fleischman C, Frank D and Nester T: A double-blind, parallel group, placebo controlled study of lactulose in the treatment of encopresis in children with chronic constipation. Presented to the 96th annual meeting of the American Gastroenterological Association, San Diego, CA, May 14-17, 1995. Gastroenterology 108:A606, 1995.
Certification
Pediatric Gastroenterology