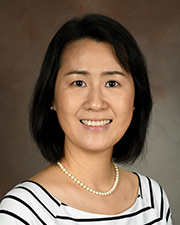 Education
Graduate School

Educational Policy Studies with External Minor in Sociology, University of Wisconsin, Madison, Wisconsin
Areas of Interest
Research Interests
Dr. Oh is broadly interested in investigating family, school, and community as contexts for children's learning and development and as venues for interventions. With the goal of contributing to enhancing the lives of young people, especially those at greater risk for poor educational and developmental outcomes, she has two strands of research interests. One is to understand dynamic processes of learning and development and complex mechanisms through which various levels of social contexts shape these processes. The other is to develop and evaluate prevention and intervention programs that can be practically used in educational and developmental settings to promote children's social, emotional, and academic outcomes and improve the quality of settings in which they learn and develop. She is particularly interested in how families and schools can best interact with each other to facilitate positive development and prevent social and emotional problems in socioeconomically and/or culturally disadvantaged children and youth.
Research Information
Dr. Oh is an expert in the application of quantitative methods to educational research, with particular focus on rigorous and innovative statistical approaches that might better address causal relationships and provide more rigorous scientific evidence to guide educational programs, practices, and policies. She has significant experience in various research designs including randomized-experimental, quasi-experimental, and longitudinal research designs, as well as a wide range of statistical methods including person-centered approaches, multilevel modeling, structural equation modeling, various longitudinal data analysis methods, and classical and modern measurement theory.
Publications
Publication Information
Oh, Y., Greenberg, M, & Willougby, M. (Accepted with minor revision). Examining Longitudinal Associations between Externalizing and Internalizing Behavior Problems at Within- and Between-Child Levels. Journal of Abnormal Child Psychology.
Jennings, P.A., Doyle, S., Oh, Y., Rasheed, D., Frank, J.L., Brown, J.L. (2019). Long-term Impacts of the CARE Program on Teachers' Social and Emotional Competence and Well-Being. Journal of School Psychology. 76. 186-202
https://doi.org/10.1016/j.jsp.2019.07.009
Morgan, P.L., Farkas, G., Wang, Y., Hillemeier, M., Oh, Y., & Maczuga, S. (2019). Executive functions deficits in kindergarten predict repeated academic difficulties across elementary school. Early Childhood Research Quarterly, 46, 20-32
Lachapelle, C. P., Cunningham, C. M., & Oh, Y. (2019). What is technology? Development and evaluation of a simple instrument for measuring children's conceptions of technology. International Journal of Science Education, 41(2). 188-209. https://doi.org/10.1080/09500693.2018.1545101
Smith, E.P., Osgood, W., Oh, Y., & Caldwell, L. (2018). Promoting afterschool quality and positive youth development: Cluster randomized trial of the Pax Good Behavior Game. Prevention Science. 19(2), 159-173. https://doi.org/10.1007/s11121-017-0820-2
Levitan, J., Schussler, D.L., Mahfouz, J., Frank, J.L., Kohler, K., Broderick, P., Mitra, J., Oh, Y., Berrena, E., & Greenberg, M. (2018). Evaluating student cognitive and social-emotional growth during a high school mindfulness course using mixed-method design. SAGE Research Methods. https://dx.doi.org/10.4135/9781526446428