Clinical Research Education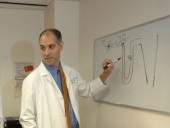 The Center offers a variety of educational programs to meet the needs of trainees and researchers ranging from clinical research fellows to established investigators in need of supplemental training.  Our programs target investigators who are actively involved in clinical research; they are designed to accommodate the schedules of busy clinicians.
Clinical Research Curriculum (CRC)
The Clinical Research Curriculum is a two-year introductory lecture series designed to promote clinical research expertise among clinical investigators at the fellow and junior faculty levels.
MS Degree Program in Clinical Research
The Master of Science in Clinical Research Degree Program at the Medical School is designed as a focused, flexible, affordable program to train clinical investigators in designing and conducting patient-oriented research that is of exemplary quality.
KL2 Program
The joint UTHealth/MD Anderson Clinical and Translational Sciences Award supports the KL2 program.  The KL2 program provides career development awards to outstanding early-career faculty members who aspire to become future leaders in clinical or translational research.  Upon funding, each awardee will participate in a formal program of research training and mentorship, conduct a major clinical or translational study, and receive salary support for 75% protected time (50% for surgeons) and $25,000/yr for 1-3 yrs.  Please contact Micky Titus for more information.
---
For more information regarding the Clinical Research Curriculum or the MS Degree program, or to subscribe to the CRC distribution list to receive updates about upcoming courses, please email Deborah Garcia, CRC and MS Program Coordinator, or call our office at (713) 500-6708.