Triathlon Brings Patient and Doctor to Serendipitous Reunion
---
---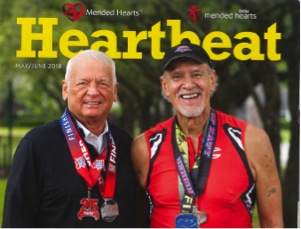 May 21, 2018
Featured in the most recent publication of HeartBeat, a newsletter created by Mended Hearts™, Dr. Donald Gibson graces the cover of the publication with his patient from 17 years ago, Joe Rivera. Dr. Gibson performed a quadruple by-pass surgery on patient Joe Rivera in 2000.
While heading toward the starting point of the Jeff & Hede's Triathlon, Mr. Rivera spotted a familiar face. He approached his fellow racer and confirmed his suspicion that the familiar face was indeed Dr. Donald Gibson – his heart surgeon from 17 years ago. As an avid runner and athlete, Mr. Rivera was quick to return to running following his recovery from his surgery in 2000. This particular race that serendipitously reunited Dr. Gibson and Mr. Rivera consisted of a 300 meter pool swim followed by a 10 mile bike ride, and a 3 mile run through the streets of Katy, TX just west of Houston. To have both patient and doctor leading active lifestyles can be a testament to the importance of physical activity and the impact it can have on one's health and quality of life.
Dr. Donald Gibson is with UT Physicians, The Department of Cardiothoracic and Vascular Surgery at the University of Texas, McGovern Medical School as a staff physician. Dr. Gibson has been in affiliation with Memorial Hermann Memorial City Medical Center for almost three decades specializing in vascular, cardiac, and thoracic surgery.
Mended Hearts™ is a national and community-based non-profit organization that offers hope and support to heart disease patients, their families and caregivers. To provide this sort of support, Mended Hearts™ offers a variety of programs all with the platform of building relationships and networks.
-Caliann Ferguson, UT Physicians
---