Advanced Endovascular Aortic Program
We are delighted to introduce to you, The Advanced Endovascular Aortic Program at The University of Texas Health Science Center at Houston (UTHealth). Building on the extensive experience accumulated over the last three decades of open surgical repair of thoracoabdominal and aortic arch aneurysm by Drs. Hazim Safi, Anthony Estrera and the team at UTHealth; the Advanced Endovascular Aortic Program brings extensive experience with over 700 fenestrated and branched endovascular repairs and continues to evolve with collaborations with industry and engineering partners. We are committed to our mission to provide the best quality of care and outcomes, based on the foundations of excellence in patient care, research and education.
In terms of active research studies as part of this program, we have two ongoing Physician-Sponsored Investigational Device Exemption (PS-IDE) protocols to evaluate the use of fenestrated and/or branched stent-grafts manufactured by Cook Medical Inc. (Brisbane, Australia). These devices can be manufactured with a broad range of design including combinations of fenestrations, branches and off the shelf options with a multi branched stent-graft for aneurysms and dissections. Both these research studies are approved by our Institutional Review Board for active enrollment of patients with complex aortic aneurysm, providing a broader range of treatment options using total endovascular techniques. Below we have summarized what is already available at our center to treat patients with more challenging anatomy.
Specific conditions that may qualify for inclusion in the PS-IDE study:
Thoracoabdominal aortic aneurysms
Chronic post-dissection thoracic and thoracoabdominal aortic aneurysms
Pararenal abdominal aortic aneurysms
Juxtarenal abdominal aortic aneurysms
Infrarenal aortic aneurysms with inadequate neck (e.g. short, angulated, conic)
Aortic arch aneurysms or dissections
Type IA endoleak or sac enlargement following endovascular aortic repair
Type IA endoleak or sac enlargement following thoracic endovascular aortic repair
Recurrent aneurysm following open surgical thoracoabdominal aortic repair
Enlarging aneurysm following ascending repair for Type A dissections
Stent-graft designs:
Thoracoabdominal patient-specific fenestrated and branched stent-grafts
Anatomical criteria
Short-neck infra-renal, juxta-renal, suprarenal, thoracoabdominal aortic aneurysms and chronic aortic dissections.
Device design
Custom-made manufactured fenestrated stent-graft by Cook Medical Inc. (Brisbane, Australia)
Maximum of five fenestrations with any combination of design, including double or triple wide scallops, pre-loaded renal guide system, pre-loaded catheters for brachial access, and lower-profile fabric
Off the shelf or patient-specific multi-branched and fenestrated-branched stent-grafts
Anatomical criteria
Type I, II, III or IV thoracoabdominal aortic aneurysms or rapidly enlarging complex abdominal aortic aneurysms or dissections
Device design
Off-the-shelf, multi-branched stent-graft (t-Branch®) or a physician-specified custom-made thoracoabdominal stent-graft with any combination of up to five fenestrations and/or branches by Cook Medical Inc. (Brisbane, Australia).
Pre-loaded renal guide system, pre-loaded catheters and lower-profile fabric
Time for customization averages 4 weeks. Off-the-shelf devices are immediately available.
Straight iliac branch devices
Anatomic criteria
Unilateral or bilateral common iliac artery aneurysms with or without concomitant complex abdominal or thoracoabdominal aortic aneurysms
Device design
Single straight iliac branch device
Single Left Subclavian Branch
Anatomic criteria
Distal aortic arch aneurysms or dissections requiring seal in Zone 2
Device design
Retrograde left subclavian branch with pre-loaded catheter and a triple wide scallop to extent the sealing zone across the origins of the left common carotid and innominate arteries.
Arch branch stent-graft (a-Branch®) with two or three inner branches 
Anatomic criteria
Aortic arch aneurysms and dissections including arch aneurysm following prior repair of Type A dissections
Device design
Two or three inner branches
Outcomes: 
Our Results in the first consecutive 429 patients enrolled in the PS-IDE study include an overall 30-day mortality of 0.9%, permanent paraplegia in 1.4%, new onset dialysis in 0.5% and stroke in 0.7% (see graph).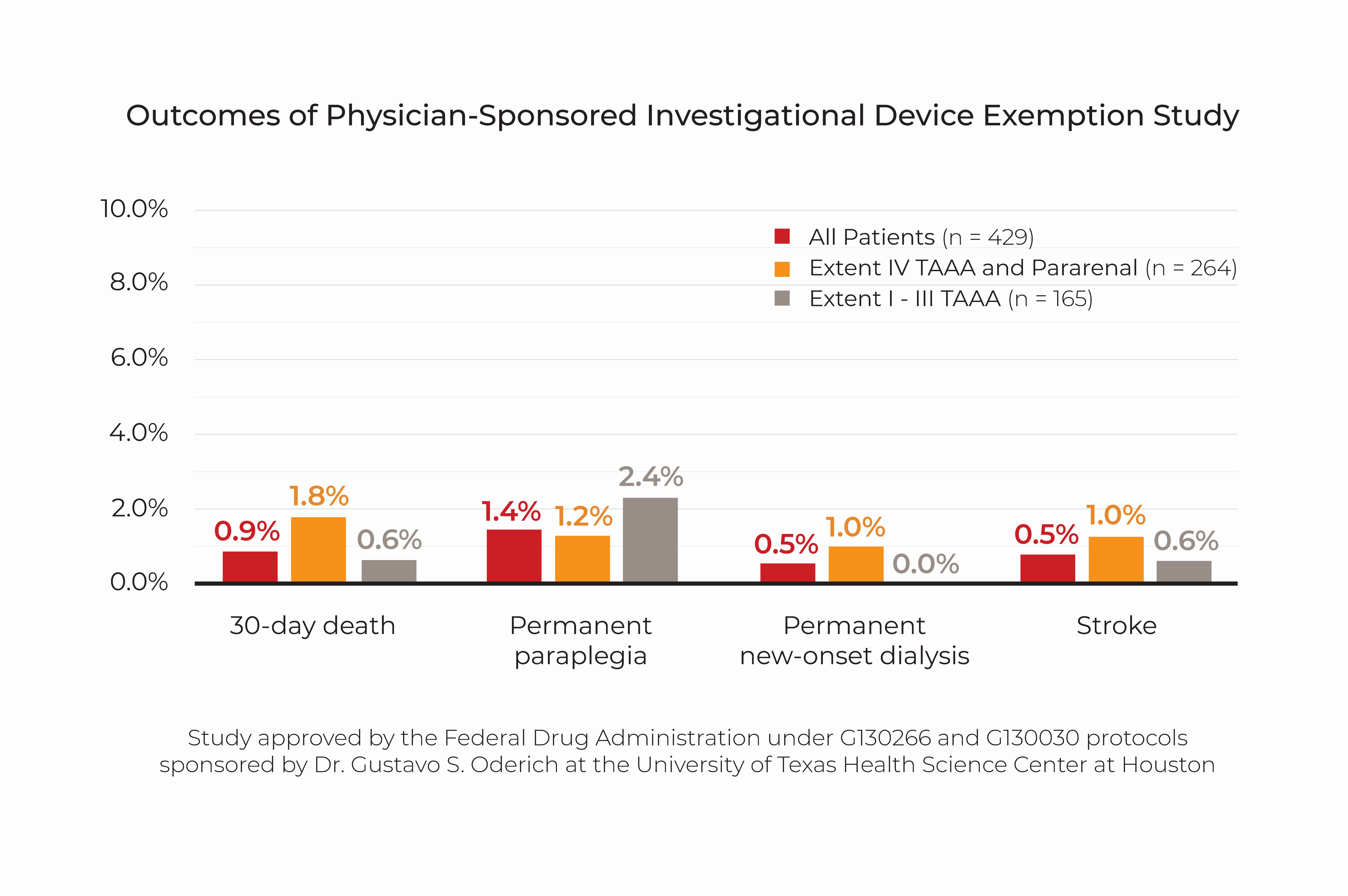 The team at UTHealth has a longstanding history and experience with management of complex aortic diseases by open surgical techniques. Dr. Oderich brings over two decades of experience as a leader in the field of complex endovascular repair, allowing UTPhysicians and McGovern Medical School to be one of few centers worldwide to offer cutting edge experience with both types of treatment. Our main priority is to provide the best care possible to the patient with the highest standards of quality.
Thank you for your interest in the Advanced Endovascular Aortic Program.  Please feel free to contact us if you have any further questions.
Contact:
info.ctvs@uth.tmc.edu
6400 Fannin, Suite 2850, Houston, Texas 77030
713.486.5100 tel
713.512-7200 fax