UTHealth and Memorial Hermann Host American Heart Association-Circle of Red
---
---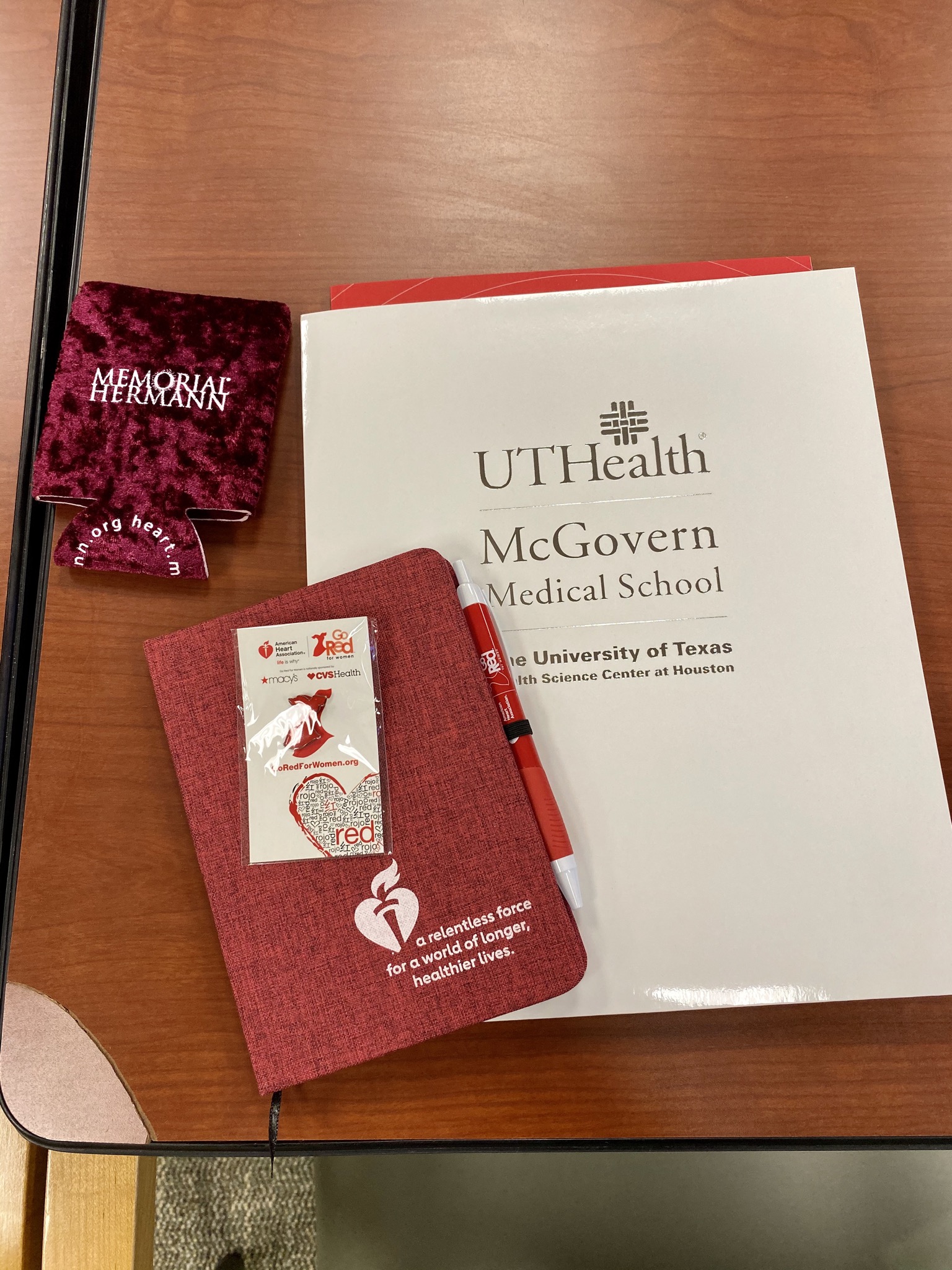 The University of Texas Health Science Center at Houston (UTHealth) has been the beneficiary of several projects and initiatives funded by The American Heart Association (AHA), a non-profit organization that works to fight heart disease and stroke in effort to save and improve lives.  On the morning of October 29th, 2019, Rana Afifi, MD, Assistant Professor of Vascular Surgery at McGovern Medical School at UTHealth, hosted AHA Circle of Red Houston chapter members for an inside look at the work in cardiovascular medicine that goes on within the Texas Medical Center (TMC), much of which is possible because of AHA's support.
The event held at Memorial Hermann-TMC, Heart and Vascular Institute (HVI) began with breakfast and networking between members and presenting McGovern Medical School faculty and staff.  With 3D-aorta replicas as the breakfast table centerpieces and event-themed folders, notebooks, and take-homes for each guest, event attendees settled in for an opening introduction by Dr. Afifi, who is an AHA Circle of Red Member herself.  Speaker, Circle of Red Member, and executive vice president and CEO of the Memorial Hermann Foundation, Anne Neesen, gave a talk about the dynamics and accomplishments of the TMC, that ar
e due in part to the collaborative efforts between UTHealth and Memorial Hermann Health System.  McGovern Medical School representative Darla Brown, Director of Communications presented on the 50-year history of the Medical School.  Faculty members, David McPherson, MD, Professor and Chair of the Department of Internal Medicine, and Siddharth Prakash, MD, Associate Professor of Internal Medicine and Fellow of the AHA and the American College of Cardiology each presented on how their own respective work in cardiovascular medicine and treatment of heart disease have been supported by AHA.  Hazim Safi, MD founding chair and former chief of the cardiothoracic and vascular surgery department presented on the 20-year history of the surgical division, which he explained was created to train the next generation of cardiothoracic and vascular surgeons. Professor and Associate Dean for Hospital Quality and Associate Vice President for Clinical Research, Charles Miller, PhD, concluded the morning presentations with a review of the different research, trials, and projects that are in the works.
Following the morning's presentations, the group was able to have hands-on experience with different heart and vascular surgical equipment.  Dr. Afifi provided explanations and demonstrations for each of the various stents, grafts, catheters, and innovative tools used at the Memorial Hermann Hospital campuses and the TMC HVI.  Dr. Afifi explained to the group about how research and clinical trials for these different tools and drugs encompass a large part of the focused work at UTHealth and Memorial Hermann.
Dr. Afifi then brought guests down to the second floor of the TMC HVI to see the Cath Lab, where they observed endovascular procedures going on that morning.  While touring the Cath Lab, Circle of Red Members were able to get a firsthand look at the equipment, personnel, imaging, communications, operations, and research that goes in to the successful outcome of the patient, and work of the organizations.
The event concluded with a tour of the McGovern Medical School simulation clinic, which allows medical students the practice needed to talk with patients and effectively run a healthcare practice.  A humbling experience for both AHA Circle of Red members, as well as UTHealth and Memorial Hermann presenters. "I think collaboration between McGovern Medical School, Memorial Hermann, and non-profit organizations such as AHA is crucial.  AHA aids in educating the public regarding cardiovascular disease.  We all share a common interest to improve our community's health and wellbeing," says Dr. Afifi.
The department looks forward to the continued collaboration between each organization.
-Caliann Ferguson
---