Daniel H. Kim, MD
Neurosurgeon
Professor
Vivian L. Smith Department of Neurosurgery
McGovern Medical School, UTHealth Houston
Dr. Daniel Kim is a fellowship-trained, board-certified neurosurgeon who is an expert in minimally invasive spinal surgery – both endoscopic and robotic – peripheral nerve surgery; and complex spinal reconstruction.
Dr. Kim has won numerous awards and honors, authored hundreds of papers, and published 22 surgical textbooks. He is a preeminent researcher in spinal biomechanics, peripheral nerve repair through nerve transfer and nerve graft, and also is recognized for his work in neurorehabilitation through robotics and cortical stimulation, and innovative neuromodulation treatments for chronic pain.
Dr. Kim first joined McGovern Medical School in 2012, after serving as professor at Baylor College of Medicine in Houston, with dual appointments in the Department of Neurosurgery, where he was director of spinal neurosurgery and reconstructive peripheral nerve surgery, and the Department of Orthopedic Surgery. He left in 2018 to pursue a research sabbatical project in computer-assisted robotic surgery, and returned to McGovern Medical School as a professor in 2022.
An honors graduate of the University of Oklahoma in chemical engineering, Dr. Kim received his medical degree at Tulane University School of Medicine and completed neurosurgery residency training at Louisiana State University. He went on to complete a fellowship in complex reconstructive spinal surgery in the Departments of Neurosurgery and Orthopedics at the University of Florida. He is a fellow of the American College of Surgeons.
Dr. Kim is committed to providing exceptional clinical care and high-quality outcomes for his patients. He specializes in the treatment of the following diseases and conditions:
Artificial disk replacement
Birth palsies
Brachial plexus injuries
Carpal tunnel syndrome
Congenital spine disorders
Median nerve injuries
Neurofibromatosis
Neuromodulation for chronic headache
Neuromodulation for nerve injuries
Pelvic plexus injuries
Peripheral nerve injuries
Peroneal nerve injuries
Piriformis syndrome
Pudendal nerve entrapment
Radial nerve injuries
Sciatic nerve injuries
Spinal arteriovenousmalformations
Spinal stenosis
Spine and spinal cord tumors
Spine deformity
Spine disk herniation
Spine fractures
Spine infection
Tibial nerve injuries
Ulnar nerve entrapment
Collaboration with Referring Physicians
Physicians at UTHealth Houston Neurosciences engage referring physicians in the care of their patients, keeping them informed throughout the evaluation and treatment process. After treatment, referring physicians receive a summary and a plan for follow-up. We encourage continued communication about each patient.
TO REFER A PATIENT:
P: 713-486-7720
F: 713-486-7744
UTHealth Houston
Neurosciences –
Memorial City
929 Gessner Rd.,
Suite 2410
Houston, Texas 77024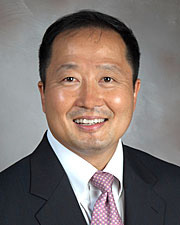 Dr. Daniel Kim Sees Patients at:
UTHealth Houston Neurosciences – Memorial City
929 Gessner, Suite 2410
Houston, TX 77024
Phone: (713) 486-7720
Fax: (713) 486-7744