Sara Hewes: Walking Tall Again
Sara Hewes knew she had lost some height, and thought it was part of the natural aging process. But in a little less than two years, she measured three inches shorter.
When she looked at an X-ray taken by a chiropractor, she was horrified. "I thought, 'Holy moly! Who is that?' One shoulder went down, and the other went up," says Hewes, who is 73. "Then my family started noticing that my body was twisted. After that, everything started to go in fast motion. I was in terrible pain."
By January 2020, she could stand upright for no more than a few minutes. "I love working hard. I do all the housework, love to garden, help out my daughters when they need me, and play hard with my grandchildren. I could no longer do any of these things," she says. "If I worked in the kitchen, I would have to drag a kitchen stool around with me, or stop and go lie down."
Her internist referred her to spine surgeon John Quinn, MD, an assistant professor in the Vivian L. Smith Department of Neurosurgery at McGovern Medical School at UTHealth Houston, who practices at Memorial Hermann-Texas Medical Center.
"I was so impressed with his knowledge and demeanor that I never even thought about getting a second opinion," she recalls. "I had total confidence in him."
It was clear to Quinn that Hewes had scoliosis. "Some degree of scoliosis is common in the general population, but between 60% and 80% of people over 65 develop scoliosis due to aging," Quinn says. "She had very clear symptoms of progressive adult scoliosis. Her ribcage pressed against her pelvis when she stood upright, causing pain and a feeling of fullness when she hadn't eaten much. Both are symptoms of advanced scoliosis. The rapid progression of her curve had caused the spine to collapse downward, leading to her loss of height. Often people with scoliosis notice they have trouble standing and walking upright."
The challenge for spine surgeons is determining the source of the pain. "People may have scoliosis but have symptoms related to other more common degenerative spine conditions," Quinn says. "Some may have significant scoliosis but not need surgery to fix it. We have to differentiate between pain caused by a smaller problem, such as a bulging disk, and pain caused by a global problem like scoliosis." Before considering surgery, Quinn and Hewes worked to optimize her condition with aquatic therapy and injections for pain. "We monitored her for a year. She showed some improvement during that time, and then her symptoms worsened. We always exhaust all possible conservative treatments before surgery," he says. "We optimize bone density and make sure other medical conditions are well controlled to minimize risk and increase the potential for a good surgical outcome."
In February 2021, Quinn took Hewes to the OR, where he performed a procedure called a "T3-ilium posterior fusion with posterior osteotomies and interbody fusion."
After a day in the hospital, she was transferred to TIRR Memorial Hermann for two weeks of inpatient rehabilitation. Following her discharge, she continued outpatient therapy at Memorial Hermann Rehabilitation Hospital-Katy for two months.
"I have an incision from my bottom to my neck and titanium rods lodged at the base of my spine. I now stand straighter than my husband," Hewes says. "Dr. Quinn did something magnificent, and I'll always be grateful. I can lug stones around the yard, climb up on a ladder and clean the gutters, and keep up with my grandchildren. I'm able to see friends and go to church — things I couldn't do before the surgery.
"Surgery doesn't solve all the problems, but it's made a huge difference in my life," she says. "What I appreciate about Dr. Quinn is his quiet nature. He doesn't have an arrogant bone in his body. It's never about who he is, but what he can do to help his patient. That's what makes him not just a good doctor, but a great doctor."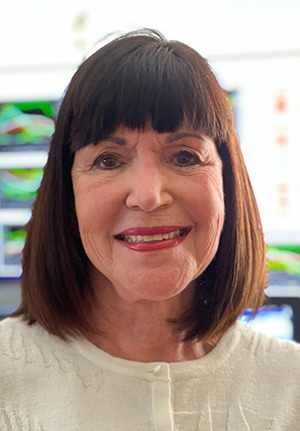 Sara Hewes chose spine surgery after she began to feel terrible pain and loss of movement.