Walid Ibn Essayed, MD
Neurosurgeon
Vivian L. Smith Department of Neurosurgery
McGovern Medical School at UTHealth Houston
Dr. Walid Ibn Essayed is a fellowship-trained neurosurgeon who treats cranial and spinal neurosurgical conditions, including both elective and emergent cases. He completed his training at Brigham and Women's Hospital/Harvard Medical School and has a special interest in brain tumors and skull base surgery.
Dr. Ibn Essayed received his medical degree at the Faculté de Médecine de Tunis in Tunisia. During his neurosurgical training, he completed a research fellowship in open skull base and endoscopic endonasal skull base surgery at New York-Presbyterian/Weill Cornell Medical Center in New York City and a clinical fellowship in skull base surgery at the Hôpital de la Pitié-Salpêtrière in Paris, France. He also completed a clinical fellowship in image-guided neurosurgery and a clinical fellowship in skull base surgery at Brigham and Women's Hospital/Harvard Medical School.
While at Brigham and Women's Hospital, he sought ways to improve the practice of neurosurgery, working on multiple patented devices to advance the specialty. He is an author of numerous articles in peer-reviewed publications, reviews, and chapters, including Nature Communications, Journal of Neurosurgery, Operative Neurosurgery, World Neurosurgery, PLOS One, and Journal of Neuro-Oncology.
His current research interests are neuro-oncology, brain tumors, spine tumors, neuro-anatomy, skull base and cerebrovascular surgery, multimodal imaging, and the development of new technologies and innovations in neurosurgery. He speaks English, French, Arabic, Italian, and Japanese.
Collaboration with Referring Physicians
Physicians at UTHealth Houston Neurosciences engage referring physicians in the care of their patients, keeping them informed about patient progress throughout the evaluation and treatment process. After a patient's treatment, referring physicians receive a summary and a plan for follow-up. We encourage continued communication about each patient.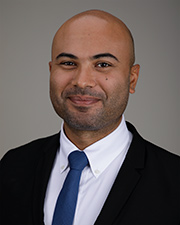 Dr. Essayed Sees Patients at:
UTHealth Houston Neurosciences – Memorial City
929 Gessner, Suite 2410
Houston, TX 77024
Phone: (713) 486-7720
Fax: (713) 486-7744