Memorial Hermann and UTHealth Welcome New Team Members
---
---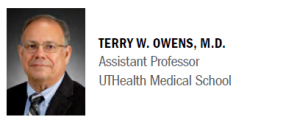 Otolaryngologist Terry W. Owens, MD, has joined the department of Otorhinolaryngology—Head and Neck Surgery at UTHealth Medical School as an assistant professor, and will be seeing patients at the University of Texas (UT) Physicians' Memorial Hermann Southeast Hospital practice.
Dr. Owens began practicing medicine at ENT Associates of Pasadena in 1983 after completing his residency in otolaryngology at Yale Medical School in New Haven, Connecticut, and Brown University in Providence, Rhode Island. He received his medical degree at the University of Colorado Medical School in Denver. An experienced surgeon known for his love of children and easy-going manner, Dr. Owens has developed a large pediatric practice over the years. He also sees patients of all ages with general ear, nose and throat problems.
Dr. Owens is the author and publisher of Ear Disease: A School Nurse Manual, a reference guide written in a non-technical manner, and has been a lecturer to the Harris County school nurses for many years. He is board certified by the American Academy of Otolaryngology.

Also joining the department is Nancy McLellan, AuD, who completed her doctorate in audiology at The University of Texas at Dallas. Dr. McLellan is trained in comprehensive diagnostic audiometry, comprehensive tinnitus evaluations and directive counseling, and advanced diagnostics including neuro-diagnostic and threshold auditory brainstem response, otoacoustic emissions, vestibular-evoked myogenic potential, electrocochleography, videonystagmography and central auditory processing order evaluations, among other tests. She is also experienced in hearing-aid evaluation and fitting, audiometric and real-ear verification, repairs and earmold impressions, as well as pre- and post-cochlear implant evaluations, device selection, initial activations and orientation.
---