Transoral Robotic Surgery for Airway Obstruction in Pediatric Patients
---
---
When the da Vinci® Surgical System was approved by the FDA in 2009 for transoral robotic surgery (TORS) for resection of tumors of the pharynx, UTHealth otolaryngologists affiliated with Memorial Hermann-Texas Medical Center were among the first in the country to offer cancer patients this innovative approach. Today, thanks to refinements in robotic technique, TORS is being used increasingly in the field of head and neck surgery, including pediatric airway surgery.
In an article published in the November 2014 issue of The Laryngoscope, three faculty members and a resident at UTHealth Medical School reported their preliminary experience using TORS techniques in pediatric airway surgery. The retrospective chart review, one of the earliest in the literature, included all pediatric patients who underwent robotic airway surgery at Memorial Hermann-Texas Medical Center between August 2010 and December 2012.
"The robot was originally developed for gynecological, prostate and open abdominal surgery, but in the past few years otolaryngologists have adapted it for use in head and neck surgery, particularly for oropharyngeal cancer," says Sancak Yuksel, MD, an assistant professor of otorhinolaryngology-head and neck surgery at UTHealth Medical School and the senior author of the article. "Although it's been primarily a tool for head and neck surgical oncologists, we've expanded its application to include treatment of sleep apnea, benign thyroid disease and other conditions. After reviewing our adult head and neck cancer surgeons' success in treating oropharyngeal cancer patients, we became interested in finding ways to improve our outcomes in the pediatric airway, which presents unique challenges for surgeons. Our goal is to adapt the technology further for pediatric patients."
The article in The Laryngoscope reports on three pediatric patients: a 15-year-old boy with posterior glottic stenosis for which a robotic-assisted posterior cricoid split with cartilage graft placement was attempted but converted in the OR to an open technique; a six-year-old boy with Trisomy 21 who underwent robotic-assisted endoscopic repair of a type II laryngeal cleft, resulting in resolution of chronic aspiration and successful initiation of oral feeding; and a three-year-old girl who underwent robotic-assisted left posterior cordectomy and subtotal arytenoidectomy for idiopathic bilateral vocal cord paralysis, resulting in improved Passy-Muir valve tolerance.
"We noted that while robotic pediatric airway surgery has potential advantages, it's not without limitations," says Soham Roy, MD, FACS, FAAP, director of pediatric otolaryngology at UTHealth Medical School and Children's Memorial Hermann Hospital, and an associate professor of pediatric otolaryngology-head and neck surgery at the medical school. "The robot was not specifically designed for airway procedures. We expect to see advancements in technology that will reduce the size and mass of the instruments and lead the way for innovations in airway surgery in children."
The authors concluded that there are challenges and limitations to the widespread use of TORS in pediatric airway surgery and that larger prospective studies are needed to define indications for TORS and determine how to optimize its use in the pediatric airway.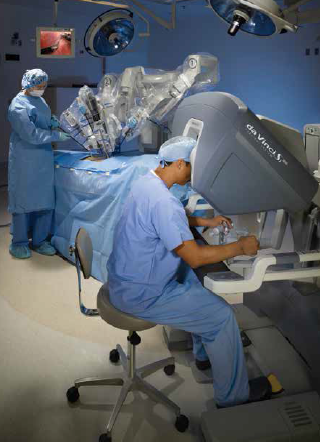 "We're pleased to be on the forefront of technology and among those leading the train on new developments in pediatric airway surgery," Dr. Roy says. "We also recognize that we're standing on the shoulders of those who've gone before us."
Reference
Ferrell JK, Roy S, Karni RJ, Yuksel S. Applications for transoral robotic surgery in the pediatric airway. The Laryngoscope. 2014 Nov;124(11):2630-5.
---