Resident Wins Award for Research at Houston Society of Otolaryngology Meeting
---
---
A CORE research grant from the American Academy of Otolaryngology-Head and Neck Surgery Foundation led to groundbreaking work in the lab, resulting in multiple manuscripts about chronic rhinosinusitis and first prize for the best resident research presentation at the May, 2016 meeting of the Houston Society of Otolaryngology.  Recipient of the grant and principal investigator of the study is Matthew Tyler, MD , a fourth-year resident in the Department of Otorhinolaryngology-Head and Neck Surgery at UTHealth's McGovern Medical School.  Dr. Tyler won the award for his presentation "Large Scale Gene Expression Profiling Reveals Distinct Patterns in Chronic Rhinosinusitis Subtypes."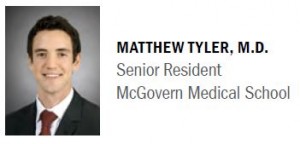 "The research is aimed at discovering a more sophisticated classification scheme for patients with chronic rhinosinusitis," Dr. Tyler says. "Currently CRS is classified based on clinical criteria that lacks prognostic information about the disease course and does little to guide effective treatment. Ultimately we're searching for good prognostic information that will lead to better disease management."  Working with his research mentor Amber U. Luong, MD, PhD, Dr. Tyler profiled an entire genome – about 32,000 gene transcripts in 150 patients with various types of chronic rhinosinusitis – the largest profiling project ever completed in patients with CRS.
"Dr. Tyler was able to capitalize on a very large microarray we have, and in his presentation wove cutting-edge research into a clinical story that resonated with the audience," says Dr. Luong, an associate professor and research director in the Department of Otorhinolaryngology who also directs a laboratory at the Brown Foundation Institute of Molecular Medicine for the Prevention of Human Diseases. "He had some basic science experience before coming into residency and spent time in my lab doing experiments. His hope is to go into an academic rhinologic practice and he's setting the stage for that."
Each year a selection committee from the Houston Society of Otolaryngology chooses the top three or four research manuscripts submitted by residents from the academic medical community in Houston, which includes McGovern Medical School, Baylor College of Medicine, The University of Texas MD Anderson Cancer Center and The University of Texas Medical Branch at Galveston. Judges select a winner based on research data, scientific merit and presentation style.
The national Centralized Otolaryngology Research Efforts (CORE) grants program is a collaboration of several societies, foundations and industry supporters focused on providing support for research in the field of otolaryngology-head and neck surgery. CORE resident research grants are highly competitive.
---