Dr. Michael Byrd Named Chief of Surgery
---
---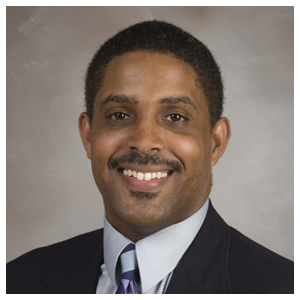 Michael Byrd, MD has been elected chief of surgery at Memorial Hermann Southeast Hospital, a 274-bed facility serving families in the Bay Area of Houston. Dr. Byrd began a one-year term in January 2017.
As chief of surgery, Dr. Byrd chairs the Surgery Section meeting, participates in the credentialing process, leads mortality and morbidity reviews and serves as the bridge between the hospital's surgeons and administration.
An assistant professor in the Department of Otorhinolaryngology-Head & Neck Surgery, Dr. Byrd received his medical degree from Morehouse School of Medicine in Atlanta, Georgia, and completed his residency at the Head and Neck Institute of the Cleveland Clinic Foundation.  He served on the staff at Cleveland Clinic's Head and Neck Institute in the department of Otolaryngology and Communicative Disorders, and practiced at Albany ENT & Allergy Services in Albany, New York, prior to joining UTHealth in affiliation with Memorial Hermann.  While at Cleveland Clinic, Dr. Byrd received a Cleveland Clinic Innovator Award and the Bruce Hubbard Stewart Award for his ability to combine sensitivity and compassion with knowledge and skill in the practice of medicine.  Dr. Byrd is board certified by the American Board of Otolaryngology-Head and Neck Surgery.
He provides general ENT services for adults, adolescents and children at Memorial Hermann Southeast Hospital and Memorial Hermann Pearland Hospital. He has a special interest in thyroid and parathyroid disorders, salivary gland diseases, laryngeal disorders, ear infections and tonsil and adenoid diseases as well as conditions of the nose and paranasal sinuses.  Dr. Byrd evaluates hearing loss, dizziness and related conditions. He has a subspecialty interest in the ENT conditions that contribute to sleep disorders, including common snoring and obstructive sleep apnea conditions.
---