Save the Date! Lone Star Rhinology and Rhinoplasty Course Scheduled for November
---
---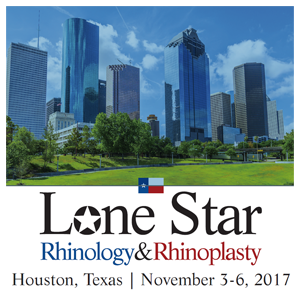 The Department of Otorhinolaryngology-Head & Neck Surgery at UTHealth's McGovern Medical School is proud to sponsor 2017 Lone Star Rhinology and Rhinoplasty, a four-day CME meeting in Houston, TX. The course will feature two consecutive two-day CME events from Friday, November 3, 2017 through Monday, November 6, 2017.
The rhinology course, a comprehensive medical education program dedicated to the study of issues in nasal and sinus disorders, will be held during the first two days, and will include a day and a half of lectures and a half-day dissection lab. The rhinoplasty course will follow on November 5-6 with the same lecture and lab format, providing a complementary course on contemporary principles of functional and aesthetic rhinoplasty.
Guests of honor at the rhinology course agenda include:
Pete S. Batra, MD (Rush University Medical Center, Chicago, IL)
Ralph Metson, MD (Massachusetts Eye & Ear Infirmary/Harvard Medical School, Boston, MA)
Guests of honor at the rhinoplasty course include
Ira Papel, MD (The Johns Hopkins University, Baltimore, MD)
Jonathan Sykes, MD (The University of California-Davis Medical Center, Sacramento, CA)
The rhinology course directors are Martin J. Citardi, MD, Amber U. Luong, MD, PhD, and William C. Yao, MD, from McGovern Medical School. Invited faculty include Mohamad Chaaban, MD, University of Texas Medical Branch at Galveston; Philip Chen, MD, University of Texas Health Science Center at San Antonio; Seth Isaacs, MD, TriHealth in Cincinnati, OH; Kent Lam, MD, Eastern Virginia Medical School in Norfolk, VA; Li-Xing Man, MD, University of Rochester School of Medicine and Dentistry in Rochester, NY; Michael Marino, MD, Mayo Clinic Arizona in Scottsdale, AZ; Drew Plonk, MD, Wake Forest Baptist Health in Winston-Salem, NC. and Alok Saini, MD, McGovern Medical School at UTHealth.   Ashleigh Halderman, MD, Bradley Marple, MD and Matthew Ryan, MD, all from the University of Texas Southwestern, in Dallas, TX, serve on the planning committee.
The rhinoplasty course director is Russell Kridel, MD from the McGovern Medical School at UTHealth. The planning committee consistes of Christian Conderman, MD; Tang Ho, MD (also from the McGovern Medical School) and Angela Sturm, MD.
---