Can the Otolaryngologist Advocate for the HPV Vaccine?
---
---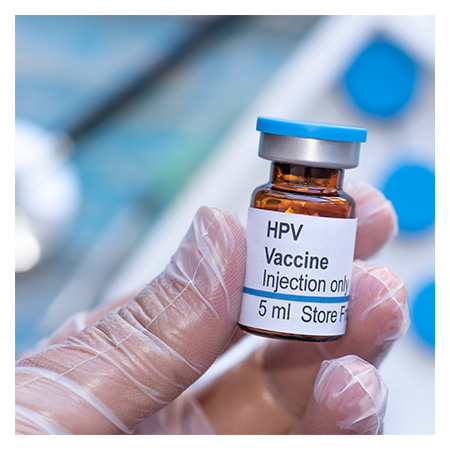 The answer is yes. In a study conducted at a large academic safety-net hospital in Houston, researchers in the Department of Otorhinolaryngology at McGovern Medical School at UTHealth Houston evaluated the effectiveness of an educational initiative to improve vaccination rates for the human papillomavirus (HPV) vaccine.
"We learned that there is a clear knowledge gap among our study population about HPV, its connection to head and neck cancer, and the availability of the vaccine," says Ibrahim "Trey" Alava, MD, associate professor of otorhinolaryngology and chief of the otorhinolaryngology service at Lyndon B. Johnson Hospital, part of Harris Health System. "Our clinic patients were receptive to receiving the vaccine during their ENT visits. We found that physician-led education and recommendation of vaccination improved acceptance and vaccination rates, and could be implemented in ENT practices successfully."
Dr. Alava serves as medical director of the 32 specialty clinics at LBJ Hospital and helps physicians and staff develop innovative strategies for care. He polled hospital administrators and managers to select the best strategy for the study; they decided the best approach would be an educational opportunity for the patients and point-of-care delivery of the vaccine. "Head and neck cancer is rare, so preventing it requires a bit of panache and a salesman's approach," he says. "We thought if we could offer patients the vaccine on the same day we educated them in clinic, we would be more successful."
Clinic patients recruited for the study were 18 to 45 years of age with no history of HPV or head and neck cancer. They answered a 13-question survey on demographics, their knowledge of HPV and HPV-associated cancers, and the vaccine. Interested participants were given the first dose of the vaccine.
Of the 114 survey respondents, 60% had heard of HPV, 43% associated HPV with cervical cancer, but only 21% associated it with oral or oropharyngeal cancer. Fifty-five percent had never heard of the HPV vaccine, and 86% reported never receiving recommendations to take the vaccine. Twenty-three percent elected to receive the first dose of the vaccine in the clinic, and 41% completed the second dose before the completion of the study. Fifty-nine percent deferred to another time or wanted to talk with a primary care physician.
"We believe these results are similar to those you would find in a clinic at a non-safety net academic hospital," Dr. Alava says. "This is a relatively simple project on paper, but it required logistics and networking to make it happen. My entire team at the clinic is ready and available to deliver vaccines, even though our primary focus is on conditions typically seen in a tertiary clinic. If more large physician groups did the same thing, we might be able to effect change collaboratively over time."
The results of the study were presented at the annual meeting of the American Academy of Otolaryngology-Head and Neck Surgery Foundation by fourth-year otorhinolaryngology resident Sai Challapalli, MD, who had the vision to work on improving a primary preventive measure.
---