Airway Reconstruction Allows a Young Husband and Father to Live a Full Life
---
---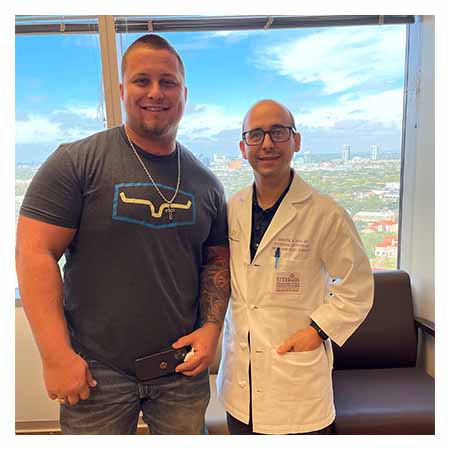 In early November 2019, Logan Buelow, then 22, suffered a devastating auto accident, rolling his dually truck several times. He was taken by ambulance to a local hospital, where he spent two weeks in a coma in the intensive care unit, intubated on mechanical ventilation. When he regained consciousness, he was transferred to Memorial Hermann-Texas Medical Center with shortness of breath and subglottic airway stenosis. At the end of December, after two attempts to open his airway with balloon dilation, surgeons performed a tracheostomy that allowed him to breathe, but made it difficult to talk.
"When I saw Logan in February 2020, his airway was 99 percent closed," says Ibrahim "Trey" Alava III, MD, associate professor in the Department of Otorhinolaryngology at McGovern Medical School at UTHealth Houston and chief of the otorhinolaryngology service at Lyndon B. Johnson Hospital, part of Harris Health System. "The stenosis kept him from getting enough air flow to the vocal cords to allow for speech. I reviewed all his medical records and imaging studies, and saw that we had limited choices of how to proceed."
Without the ability to speak, Buelow lost his job as a rig welder. "I was a full-blown mute for 10 months," he recalls. "I gave my girlfriend my power of attorney, and she spoke for me. I felt discouraged and lost. It was a very difficult time."
By late summer 2020, Buelow's airway was 100 percent stenosed. "Logan and I had a very long conversation about our possible next steps," Dr. Alava says. "He was upset that he would have no ability to talk to his son. As the father of two boys, I could relate to that."
Dr. Alava took him to the OR in November and placed a tracheal T-tube, an airway stent shaped like the letter "T" that prevents airway collapse while providing support for a stenotic trachea. The T-tube allows for speaking and breathing through the nose and mouth.
"The tube has to be replaced in the OR every six to nine months," Dr. Alava says. "I replaced it at six months and changed it again two months later. Those procedures gave me an opportunity to take a closer look and assess his airway."
Buelow had only three options: a tracheostomy, T-tube, or an airway reconstruction known as a cricotracheal resection, a rare and complex surgery. "I reviewed all his imaging and endoscopy videos and read the available literature on airway reconstruction," Dr. Alava says. "It's a complicated procedure and I wanted Logan to be well informed of the risks."
He also sent him to see Robert A. Hetz, MD, an assistant professor in the Department of Cardiothoracic and Vascular Surgery at McGovern Medical School, who is affiliated with the Memorial Hermann Heart & Vascular Institute-Texas Medical Center. The two surgeons trained together and remain good friends.
"We agreed to give it a shot. Logan's subglottis, cricoid cartilage, and trachea were stenosed very close to his vocal cords, but he was a highly motivated patient and he trusted us," Dr. Alava says. "Dr. Hetz and I spent a lot of presurgical time discussing the techniques we would use and our roles in the OR. Once we were in the OR together, we took our time. The two of us have a good cadence when we work together. Dr. Hetz freed the trachea from Logan's chest, and I performed most of the resection. We both did the anastomosis – the surgical connection of the trachea to the thyroid cartilage."
When Dr. Alava saw Logan in follow-up, he was breathing well, playing with his son, focused on staying fit, and content with his life. "I was very blessed to find Dr. Alava, who I consider the best doctor ever," he says. "I learned so many life lessons in such a short time, and he really changed the game for me. I don't just have my old life back, I have a new one."
---