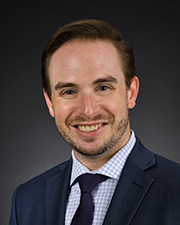 Assistant Professor
Director, Texas Voice Performance Institute
Biography
Andrew G. Tritter, MD, is an Assistant Professor in the Department of Otorhinolaryngology-Head and Neck Surgery, where he directs the department's Laryngology division, as well as the Texas Voice Performance Institute. He is a native Houstonian who obtained his undergraduate degree from Vanderbilt University in Spanish Linguistics and his medical degree from Baylor College of Medicine. Following medical school, Dr. Tritter went on to complete both an internship and residency in Otolaryngology-Head & Neck Surgery at the Louisiana State University in Shreveport before completing an additional year of fellowship training in Laryngology at Columbia University and Weill-Cornell Medical College in New York City. His experiences in fellowship afforded him extensive training in voice, airway, and swallowing disorders. Dr. Tritter is also a life-long musician and singer, which has greatly contributed to his interest in caring for patients with voice problems.
Dr. Tritter has been recognized with numerous awards during his academic career, including membership in the Alpha Omega Alpha honor society. He has presented routinely at national conferences, and has multiple peer-reviewed publications in his field. Dr. Tritter is fluent in Spanish.
Education
Doctor of Medicine

Baylor College of Medicine, 2014

Internship

Louisiana State University

Residency

Louisiana State University, 2020

Fellowship

Columbia University and Weill-Cornell Medical College, 2021
Areas of Interest
Clinical Interests
Care for the professional voice, vocal fold paralysis, spasmodic dysphonia, management of early stage laryngeal cancer, benign vocal fold lesions, respiratory papillomatosis, tracheal stenosis, laryngeal stenosis, swallowing disorders, Zenker's diverticula, chronic cough, and numerous other conditions affecting the throat.
Publications
PROFESSIONAL ABSTRACT PUBLICATIONS
Rousseau B, Cohen SM, Zeller AS, Scearce L, Tritter AG, Garrett CG. Compliance and quality of life in patients on voice rest. Otolaryngol Head Neck Surg. 2011 Jan;144(1):104-7.
Poster presented at the 2010 AAO-HNS Annual Meeting in Boston, MA
Tritter AG, Kupferman ME. Surgical management of a functional paraganglioma of the infratemporal fossa. J Neurol Surg Rep. 2015 Jul;76(1):e1-7.
Kwak PE, Tritter AG, Donovan DT, Ongkasuwan J. Long-term Voice Outcomes of Early Thyroplasty for Unilateral Vocal Fold Paralysis Following Aortic Arch Surgery. Ann Otol Rhinol Laryngol. 2016 Jul;125(7):559-63
Poster presented at COSM 2013 in Orlando, FL and Awarded 1st place in the Laryngology/Bronchoesophagology
Tritter AG, Mehta V, Samuelson M, DeGravelle G, Ma X, Medlin-Moore T, Takalkar A, Caldito G, Nathan CO. Incidence of Contralateral and Bilateral Nodes in the HPV Era. Laryngoscope. 2017 Jun;127(6):1328-1333.
Podium presentation at COSM 2016 in Chicago, IL
Tritter AG, Spiller PT, Brown ML, Weinberger PM, Nathan CO. Pilot Study: Pneumatic Compression Garment Therapy for Postradiotherapy Laryngopharyngeal Edema. Ear Nose & Throat. 2020 Jul 20:145561320942362.
Poster presentation at Triological Society Combined Sections Meeting 2019 in Coronado, CA
PROFESSIONAL MEDICAL ARTS PUBLICATIONS
Tritter AG, Berens J, Gilcrease B, De Ochoa CJ. "Living Gift" (audio publication). Published in The Intima (online journal of narrative medicine). Recording available at: http://www.theintima.org/multimedia-1
PROFESSIONAL ABSTRACT PRESENTATIONS (NON-PUBLISHED)
Tritter AG, Gungor A. The black swan of foreign bodies: A coin masking the presence of a button battery in the cervical esophagus.
Poster presentation at the 2018 AAO-HNS Annual Meeting in Atlanta, GA
Shaha MA, Tritter AG, Gungor A. Foreign body presenting as palatal mass.
Poster presentation at the 2018 AAO-HNS Annual Meeting in Atlanta, GA
Tritter AG, Cosetti MK. Utility of neuropsychological evaluation in predicting audiometric and speech outcomes following cochlear implantation.
Poster presentation at COSM 2018
Tritter AG, Thompson TL, Mudge RY, Lemonnier LA. Assessing patient comfort with tracheostomy self-care: A standardized education protocol.
Poster presentation at the 2017 AAO-HNS Annual Meeting in Chicago, IL
Tritter AG, Olinde LM, Cosetti MK. Cochlear implantation in a patient with osteopetrosis.
Poster presentation at COSM 2017 – Submitted for publication to Cochlear Implants Int. (Nov 2018)
Tritter AG, Mudge RY, Thompson TL, Lemonnier LA. Primary cholesterol granuloma of the sphenoid sinus without petrous apex involvement.
Poster presentation at ARS 2017 Annual Meeting in San Diego, CA
Tritter AG, Nathan CO. The use of intra-operative nerve stimulation for identification and preservation of the facial nerve in the case of an intra-parotid facial nerve schwannoma.
Poster presentation at the 2017 Trio Combined Sections Meeting in New Orleans, LA
Tritter AG, Monroe MM, Meyers JN, Hanna EY, Weber RS, Kupferman ME. Role of sentinel node biopsy for intermediate-thickness melanoma of the scalp.
Podium presentation at the 2014 AHNS/IFHNOS meeting in New York, NY