Clinical and Research Training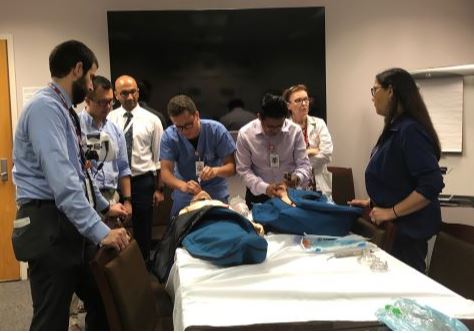 Clinical Training
The fellowship program provides extensive clinical experience in every aspect of pediatric critical care. Over 850 patients are admitted each year to our 32 beds combined Pediatric Intensive Care Unit (PICU) and Heart Center Intensive Care Unit (HCICU) located at state-of-the-art Children Memorial Hermann Hospital in Houston, Texas. The fellows are directly involved in the management of all critically ill medical and surgical patients, including supervising pediatric residents and working in a multidisciplinary environment with the pediatric surgical subspecialists. They get experience in performing all the critical care procedures with increased independence each year of fellowship. Fellows are exposed to advanced technologies available for monitoring respiratory, cardiovascular and neurological function including advanced respiratory mechanics monitoring and capnography for ventilated patients, invasive cardiac monitoring, and intracranial pressure monitoring. Highly specialized technologies are available including extracorporeal membrane oxygenation (ECMO) for neonatal and pediatric respiratory and cardiac failure, high frequency oscillatory ventilation, inhaled nitric oxide, continuous bedside renal replacement therapy.
In addition to gaining expertise in the medical management of critical illnesses, fellows are actively involved in the management of critically ill pediatric surgical patients. All pediatric surgical subspecialties are represented in the Department of Pediatric Surgery including cardiovascular surgery, neurosurgery, general surgery, trauma, pediatric otolaryngology, orthopedics, solid organ transplant, and plastic surgery. Neonates with complex congenital heart disease are admitted post-operatively to the PCICU. Over 300 pediatric and neonatal open heart surgeries are currently being performed each year. Multidisciplinary rounds consisting of the cardiovascular surgeons, cardiologists, and pediatric critical care team facilitate the care of the cardiac patients within the PICU.
The faculty of the Division of Pediatric Critical Care Medicine is comprised of five full-time board certified/eligible pediatric intensivists with 24/7 in-house attending coverage. The PICU staff comprised of a broad range of healthcare professionals including highly skilled and specially trained critical care nurses and respiratory care practitioners, residents, medical students, social workers, physical and occupational therapists, chaplains, discharge planners, clinical nutritionists, and clinical pharmacists. All medical and surgical subspecialties are readily available to provide consultation as needed. Our PICU delivery model supports the entire team's commitment to utilizing their specialized skills to meet our patients' needs in a family-centered care environment.
Research Training
To ensure our fellowship program leads to the development of well-rounded, pediatric critical care medicine physicians, all fellows are required to spend eighteen months of their thirty-six month fellowship pursuing a research project under the supervision of a mentor. Depending upon the fellow's interest, a basic science, translational, or clinical research project can be undertaken with the appropriate mentor to fulfill this requirement. In addition, our fellowship program consists of intra- and extra-divisional curricula, which are designed to complement the individualized research training provided by the fellow's mentor.
Goals of Research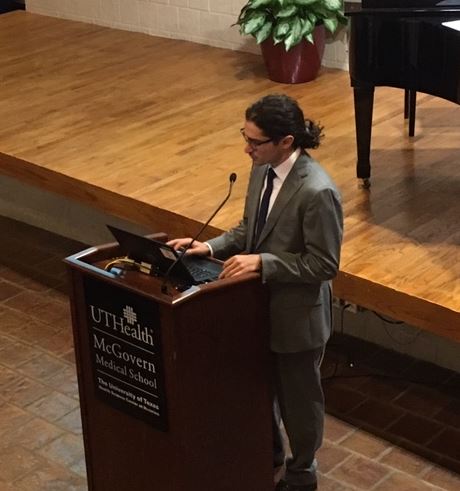 To assimilate new knowledge, concepts, and techniques in pediatric critical care medicine.
To formulate clear and testable hypotheses from a body of information so as to be prepared to become an effective pediatric critical care physician.
To engage in specific areas of scholarly activity to allow for the acquisition of skills in the critical analysis of the work of others.
To advance research in pediatric critical care medicine.
Objectives of Research
Engage in a project, under the supervision of a mentor, which allows the fellow to develop hypotheses or substantive scholarly exploration and analysis that requires critical thinking.
Attain a basic understanding of the methods needed for the research project and submit a research protocol to the appropriate institutional committee for approval.
Collect and analyze data, derive and defend conclusions, and place conclusions in the context of what is known or not known about a specific area of inquiry.
Present work in oral and written form to a Scholarly Oversight Committee (see below) and submit a first-author manuscript to a relevant high-impact, quality journal for peer-review.
Research Timeline and Expectations
The fellow is allotted eighteen months for research. The research project must be completed before the end of the third year of fellowship training. The project must be hypothesis-driven, achievable, and relevant to pediatric critical care medicine.
The initiation of a research project starts during the first year and includes the identification of a research mentor, a research project, preparing the protocol with IRB submission and presentation to the Scholarly Oversight Committee. It is essential that the research mentor has the expertise to successfully oversee the fellow's research project. To begin this process, the fellow will meet with the Associate Program Director of Research for the Division of Pediatric Critical Care Medicine within the first three months of fellowship training.
During the second year, the fellow will collect and analyze the data.
During the third year, the fellow will submit a first-authored manuscript of his or her research for peer-review.
These activities require active participation by the fellow and his or her mentor. The mentor(s) will be responsible for providing continuous feedback, which is essential for the trainee's professional development.
Scholarly Oversight Committee
The Scholarly Oversight Committee (SOC) is composed by three members, two within the division and one external faculty member. We have a single SOC for all our fellows.
The Scholarly Oversight Committee has several functions.
Determine whether a specific activity is appropriate to meet the American Board of Pediatrics guidelines for scholarly activity.
Determine a course of preparation beyond the core fellowship curriculum Evaluate the fellow's progress as related to scholarly activity.
Meet with the fellow early in the training period and every six months thereafter.
Require the fellow to present and defend his or her scholarly research project.
Advise the Fellowship Program Director and Associate Director of Research on the fellow's progress and assess whether the fellow has satisfactorily met the guidelines associated with the requirement for active participation in scholarly activities.
The final responsibility of the SOC is to review and approve the final scholarly "work product" of the fellow prior to submission to the ABP at the completion of training.
Work Product Report
Involvement in scholarly activities must result in the generation of a specific written "work product" as outlined by the ABP (www.abp.org). Examples of include, but are not limited to:
A peer-reviewed publication in which a fellow played a substantial role
An in-depth manuscript describing a completed project
A thesis or dissertation written in connection with the pursuit of an advanced degree
An extramural grant application that has either been accepted or favorably reviewed
A progress report for projects of exceptional complexity, such as a multi-year clinical trial
The fellow's SOC will be instrumental in guiding the fellow's activity towards an acceptable product. It is the responsibility of each fellow to write their work product report and personal statement, as well as obtain approval from the SOC to be eligible to sit for the Subspecialty Board Examination.