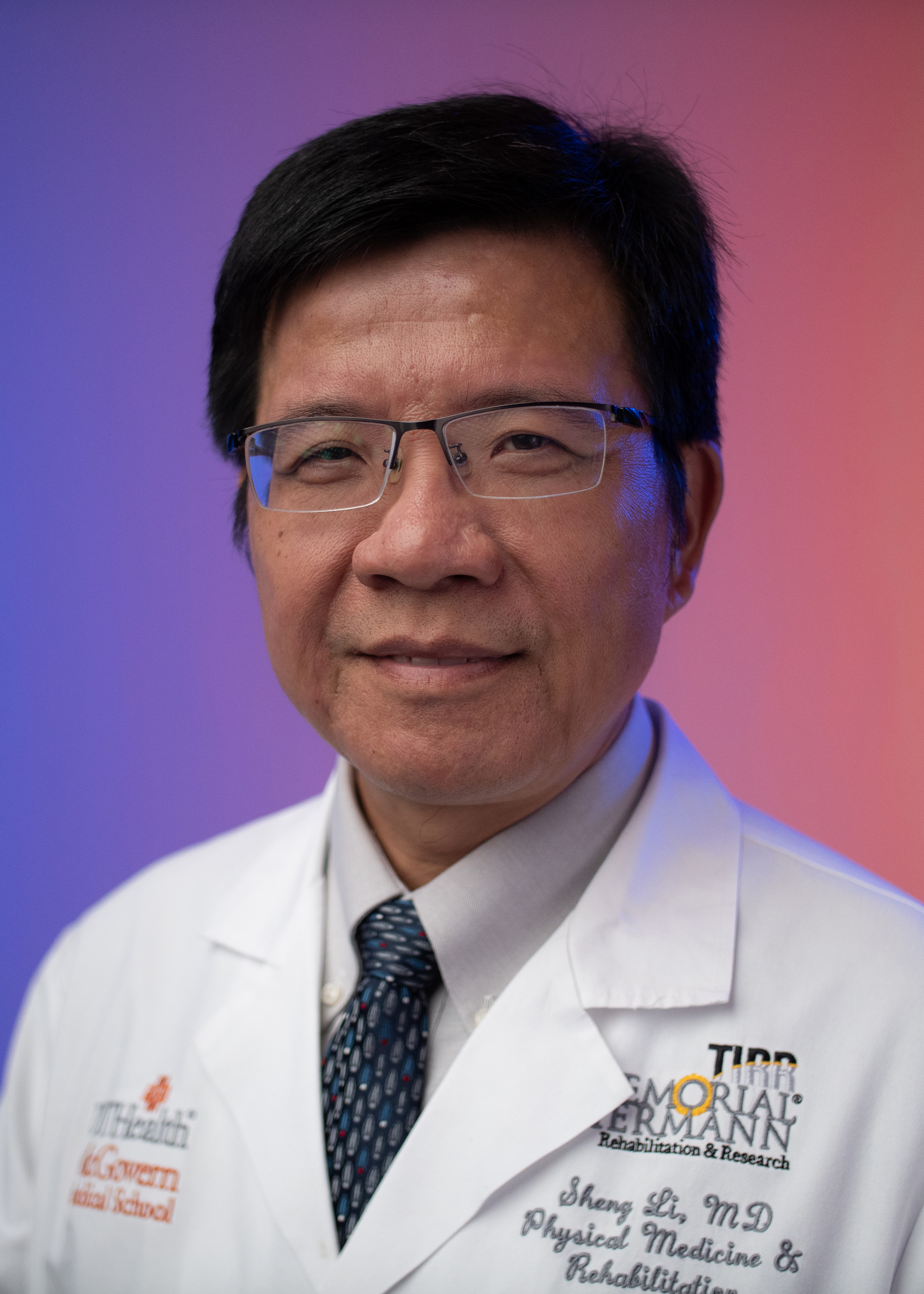 Professor
Attending Physician, TIRR Memorial Hermann
Director of Stroke Recovery and Rehabilitation Research, TIRR Memorial Hermann
Director, Neurorehabilitation Research Laboratory, UTHealth NeuroRecovery Research Center at TIRR Memorial Hermann
Research: Motor control and recovery after stroke, spasticity, neuropathic pain, neuromodulation
Brain Injury Medicine, ABPMR certified
Biography
Sheng Li, M.D., Ph.D. is a Professor in the Department of Physical Medicine and Rehabilitation (PM&R) at McGovern Medical School at UTHealth. Dr. Li received his medical degree from Beijing Medical University, Beijing, China. He obtained his Ph.D. degree in Kinesiology from The Pennsylvania State University, and subsequently completed a post-doctoral research fellowship in Neurorehabilitation at Rehabilitation Institute of Chicago with a focus on spasticity management and stroke rehabilitation. Dr. Li completed his PM&R residency training on a Clinical Investigator Pathway at UTHealth.
Dr. Li's primary clinical focus is spasticity management and neurorehabilitation after neurological impairments, mainly stroke and traumatic brain injury. Dr. Li is the Director of Neurorehabilitation Research Laboratory at TIRR Memorial Hermann Research Center. His main research focus is sensory and motor recovery after neurological impairments, including pathophysiology and management of spasticity, motor control and motor recovery after stroke, and neuropathic pain. He has invented a technique – breathing-controlled electrical stimulation (BreEStim,http://www.jove.com/video/50077/) as a non-pharmacological intervention for management of spasticity and neuropathic pain. He has published more than 110 peer-reviewed journal articles on these topics. His research has been continuously supported by federal grants (NIDILRR and NIH grants), foundation grants (Mission Connect, a program of TIRR Foundation) and industrial research grants. Dr. Li have served as a regular member of the Motor Function, Speech and Rehabilitation (MFSR) study section at the NIH (2011-2015). Dr. Li is currently an Associate Editor with Frontiers in Human Neuroscience, Frontiers in Neurology, neurorehabilitation, and a guest Editor with Frontiers in Neurology and Neural Plasticity. Dr. Li is the 2017 recipient of prestigious Early Career Award from the Association of Academic Physiatrists (AAP).
Dr. Li is a member of the Association of Academic Physiatrists, American Academy of Physical Medicine and Rehabilitation, and Society for Neuroscience.
Education
Medical Degree

Clinical Medicine, Beijing Medical University, Beijing, China

Residency

Physical Medicine & Rehabilitation, Clinical Investigator Pathway, Baylor/UT-Houston PM&R Alliance Program, Houston, TX

PhD

Kinesiology, Pennsylvania State University, University Park, PA

Post-doctoral Fellowship

Neurorehabilitation, Shirley Ryan Ability Lab
Areas of Interest
Clinical Interests
Spasticity management
Stroke rehabilitation
Traumatic brain injury rehabilitation
Post-traumatic headache
Hemiplegic gait
Research Interests
Pathophysiology and management of spasticity
Post-stroke motor control and recovery
Voluntary breathing-controlled electrical stimulation (BreEStim) and its clinical applications
Neural plasticity and modulation via non-invasive stimulations (TMS, tDCS, electrical stimulation, BreEStim)
Profile at ResearchGate
Publications
Profile at ResearchGate.com: https://www.researchgate.net/profile/Sheng_Li23