Spinal Cord Injury Program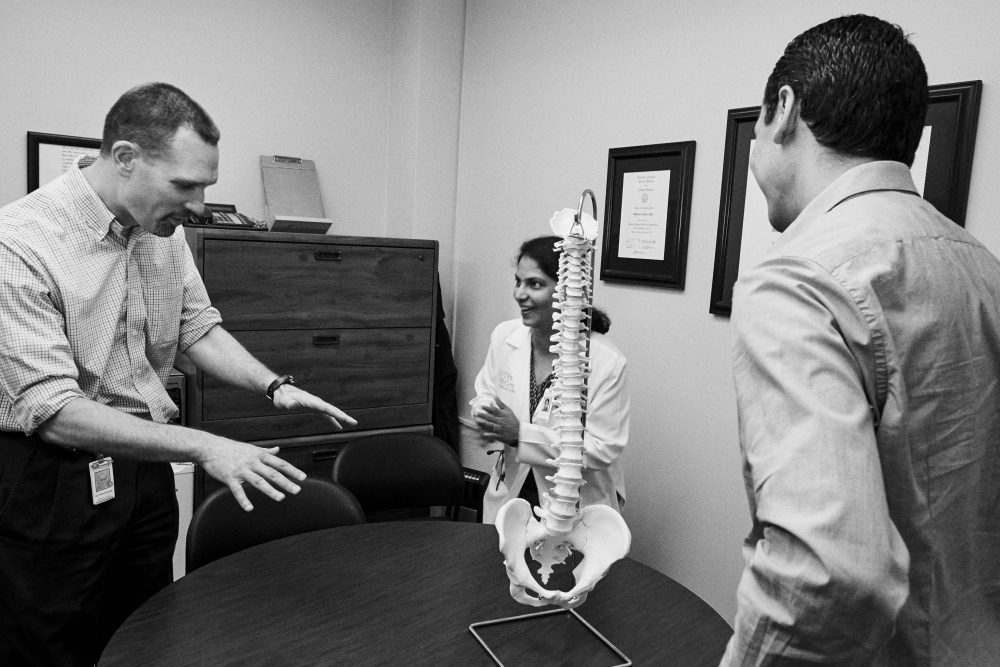 The spinal cord injury program is the oldest program within our department and provides the cornerstone for our clinical care.
Program Description
Comprehensive interdisciplinary rehabilitation services are provided for patients with recent or chronic spinal cord injury or disease. Inpatient and outpatient programs achieve measurable high performance goals in physical recovery and education for patients and families.
Program Objectives
Develop Spinal Cord Outpatient Annual Evaluation Services that include a multidisciplinary medical and therapy team for comprehensive annual reevaluation of our former patients and initial evaluation of new referrals.
Develop an interdisciplinary rehabilitation model for outpatients, tentatively entitled SCI day hospital, to provide patients with the opportunity to reach higher outcome goals while they reside at home. This new model will allow shorter lengths of inpatient stay, lower overall costs and higher quality outcomes as patients return to community living.
Many technological breakthroughs have been achieved to improve the independence of those we serve. However, funding for this technology is often limited. To this end, we will explore the possibilities of developing an equipment fund through the TIRR foundation to support the purchase of equipment that is not otherwise funded by insurance.
Spinal Cord Injury Program at TIRR Memorial Hermann
A spinal cord injury is a devastating event, both physically and psychologically. In addition to paralysis and loss of sensation below the level of injury, a spinal cord injury also impacts many different bodily functions including circulation, metabolism, temperature regulation, nutritional health, skin, respiration, bowel and bladder elimination, and sexuality. The complexity of spinal cord injuries requires the highly specialized skills of a health care team trained in this kind of injury. TIRR was one of the first facilities in the United States to establish a civilian spinal cord injury center. It is also one of the first centers to be chosen as a federally designated Regional Model Spinal Cord Injury System for exemplary patient management and research. In addition to medical and therapy services, the Spinal Cord Injury Program provides specialized services such as in-house urology consultation and urodynamics studies, spasticity management (including nerve blocks and Baclofen® pumps), a male fertility clinic, and innovative wound management. TIRR Memorial Hermann is internationally recognized for its expertise in the management of tetraplegic spinal cord injury patients who require a ventilator for breathing, including those patients who are able to wean from the ventilator or use electrophrenic stimulation to sustain their breathing.
To learn more about spinal cord injury rehabilitation and how you can participate in TIRR Memorial Hermann's acclaimed Spinal Cord Injury Program, call (713) 797-5942.